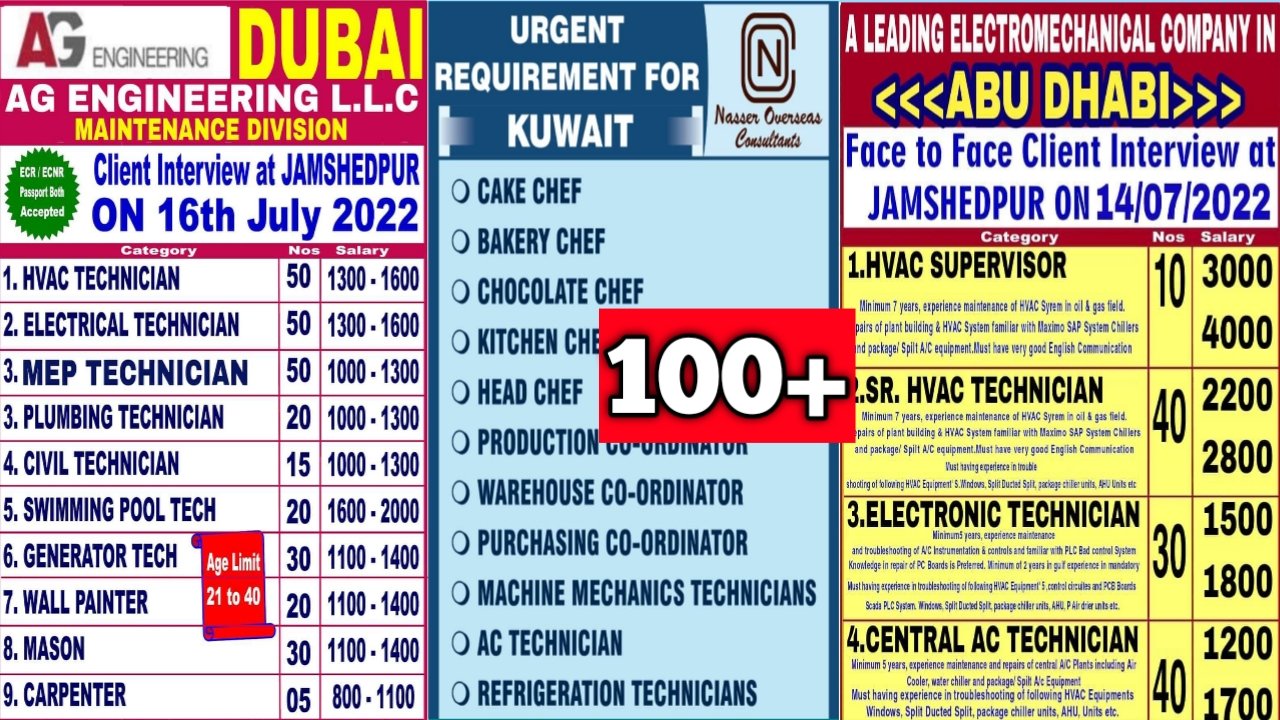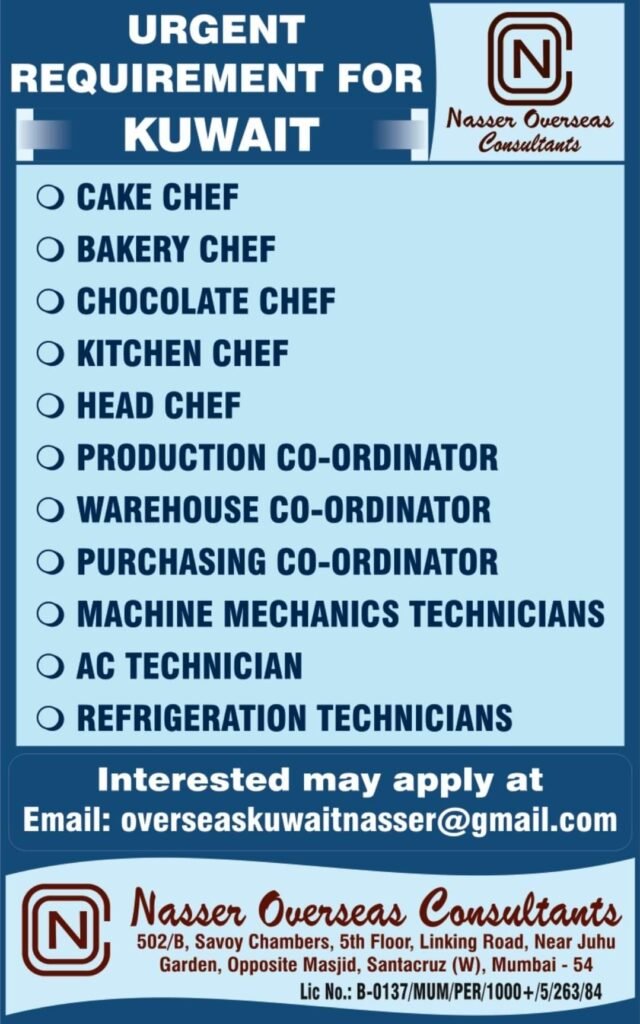 URGENT REQUIREMENT FOR KUWAIT
JOB POSITIONS AVAILABLE

✓CAKE CHEF
✓BAKERY CHEF
✓CHOCOLATE CHEF
✓KITCHEN CHEF
✓HEAD CHEF
✓PRODUCTION CO-ORDINATOR
✓WAREHOUSE CO-ORDINATOR
✓PURCHASING CO-ORDINATOR
✓MACHINE MECHANICS TECHNICIANS
✓AC TECHNICIAN
✓REFRIGERATION I TECHNICIANS

Interested may apply at
Email: overseaskuwaitnasser@gmail.com

Nasser Ouerseas Consultant

502/B, Savoy Chambers, 5th Floor, Linking Road, Near Juhu
Garden, Opposite Masjid, Santacruz (w), Mumbai – 54

Lic No: B-0137/MUMPER/1000+/5/263/84
FREE RECRUITMENT URGENTLY REQUIRED FOR LEADING MULTINATIONAL COMPANY-QATAR
JOB POSITIONS AVAILABLE
VACCINES IN LARGE NUMBERS
✓STOREKEEPERS 100 NO'S
DIPLOMA WITH MINIMUM 2 YEARS OF EXPERIENCE IN OIL & GAS WITH WAREHOUSE EXPERIENCE AND SAP SOFTWARE
Suitable candidates please send your updated CV on given Email.
MUMBAI
cv@jobsit.net or nisha@itlservice.net
CHENNAI
itimds@itlservice.net
KOCHI
career1@itlservice.net

TRICHY
trichy@itlservice.net

BARODA
Baroda@itlservice.net
INTERNATIONAL TRADE LINKS HR CONSULTANTS
B0602/MUM/PART/1000+/5/2249/87
Queens mansion ,3rd floor,44 Amrit Keshav Nayak Marg. Behind Khadi Gramodyog, Fort, Mumbai – 400001.
URGENTLY REQUIRED FOR A REPUTED FMCG COMPANY IN QATAR
JOB VACANCY LIST

CLIENT INTERVIEW SHORTLY IN MUMBAI

✓SALES SUPERVISOR (For a FMCG)

Experience FMCG (Perfumes & Beauty Products) company in Qatar 5years'

Age below 30 years

Education: Graduate

Holding valid UAE or Kuwait or Oman 4-wheel driving licence

✓SALESMAN CUM MERCHANDISER

Experience in FMCG (Perfumes & Beauty Products) company

Age below 27 years

Education: Higher Secondary and Advantage if Graduate

Holding UAE or Kuwait or Oman 4-wheel driving licence
URGENTLY REQUIRED FOR A LEADING FACILITY MANAGEMENT COMPANY IN QATAR
JOB VACANCY LIST
✓BMS OPERATORS
✓FRC OPERATORS
✓LOCKSMITH
✓HANDYMAN
✓PLUMBER
✓ELV SUPERVISOR
✓FIRE FIGHTING TECHNICIAN
✓FAN TECHNICIAN
✓TECHNICIAN CUM DRIVER
✓HVAC TECHNICIANS

ACCOMMODATION, MEDICAL &
TRANSPORTATION PROVIDE BY COMPANY
M. GHEEWALA GLOBAL HR CONSULTANTS

202, 2nd Floor, Bombay Market, Tardeo Road, Mumbai Central (W), Mumbai- 34 B-0578/MUM/PER/1000-/5/9039/2013
HIRING FOR QATAR
JOBS POSITION AVAILABLE

✓DOCKYARD OPERATOR
✓ELECTRICAL TECHNICIAN
✓ANALYZER TECHNICIAN
✓VACUUM TANKER DRIVER
✓MECHANICAL TECHNICIAN
✓AUTOMOBILE TECHNICIAN
✓DIMENSIONAL CONTROLLER ✓AUTOMOBILE ELECTRICIAN
✓MAINTENANCE PLANNER (MECHANICAL-ELECTRICAL)

EMAIL CV AT -Sujata@dss-hr.com

CALL ON – +91 93117 77497


DYNAMIC STAFFING SERVICES


FOR MORE JOB OPPORTUNITIES AND LATEST JOB UPDATES PLEASE CLICK HERE

(Regn:B-0718/DEL/COM/1000+5/12/1984) Valid till 14th of April 2023
We Are Hiring For Cake Shop In Kuwait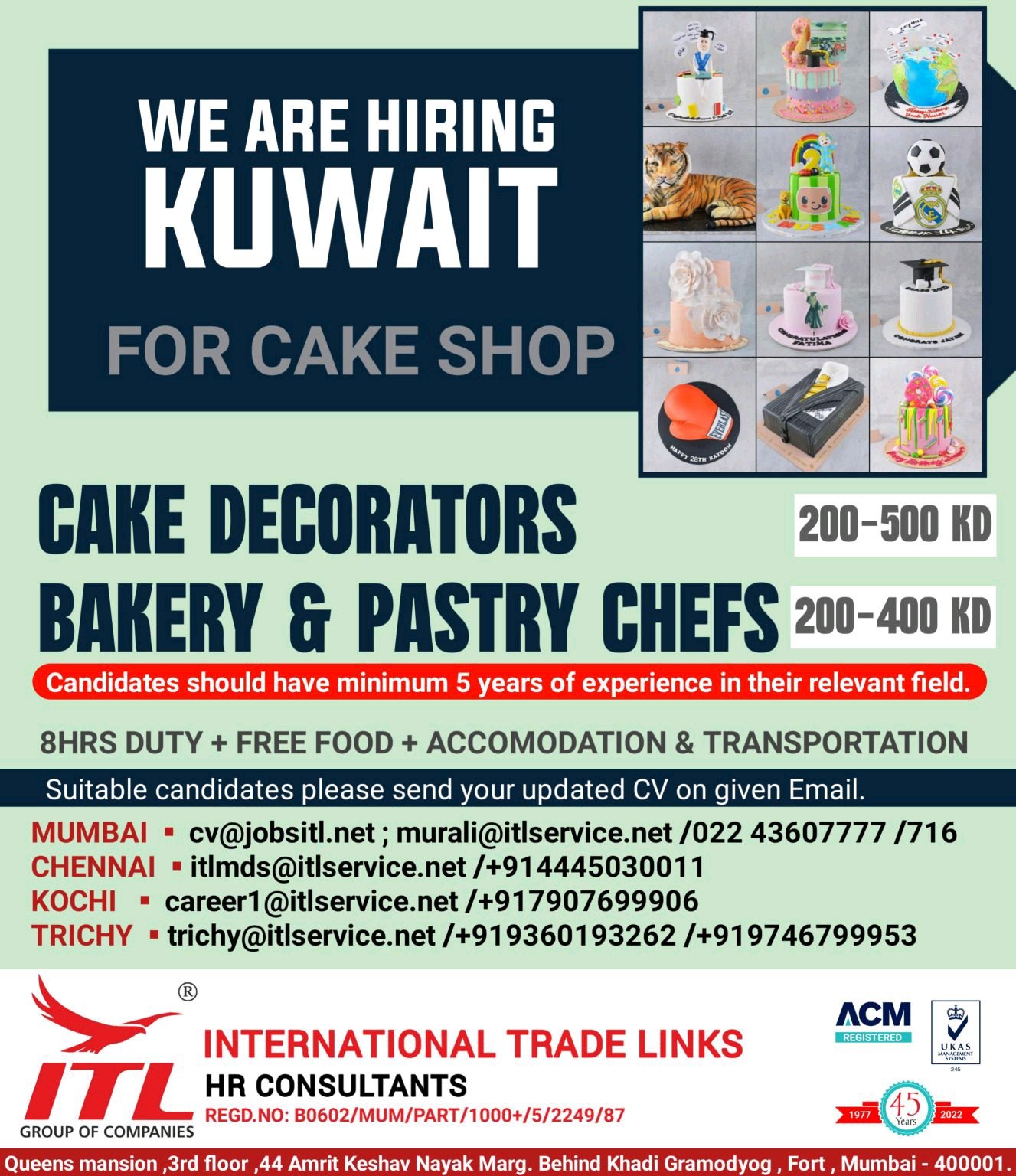 WE ARE HIRING FOR BELOW POSITIONS
✓CAKE DECORATORS
✓BAKERY & PASTRY CHEFS
Candidates should have minimum 5 years of experience in their relevant field.
8HRS DUTY+ FREE FOOD + ACCOMODATION & TRANSPORTATION
INTERNATIONAL TRADE LINKS HR CONSULTANTS
REQUIRED IN LARGE NUMBERS FOR REPUTED OIL AND GAS COMPANY IN SAUDI ARABIA
JOB POSITIONS AVAILABLE

✓PLANNING ENGINEER
✓RIGGING SUPERVIsOR
✓WELDING SUPERVisOR
✓QA/QC INSPECTOR -(MECHANICAL/ PIPING /WELDING)
✓HSE INSPECTOR (NEBOSH)
✓RIGGING FOREMAN
✓WELDING FOREMAN
✓PERMIT RECEIVER
✓TECHNICIAN ELECT. & INST.
✓INDUSTRIAL ELECTRICIAN
✓PIPE FABRICATOR
✓MECHANICAL FITTER
✓PIPE FITTER
✓RIGGER (3RD PARTY CERTIFIED)

All candidates should have experience in Oil & Gas Projects. Shutdown or Turnaround experience preferred.
GULF experience is must.

Attractive salary & other benefits provided by company

WALK-IN FOR INTERVIEW IMMEDIATELY WITH COMPLETE CV, COPIES OF CERTIFICATES, ORIGINAL PASSPORT & COLOR PHOTOS TO OUR ADDRESS

MUMBAI OFFICE ASMACS
411, 4th Floor, Sai Chamber, opp.Railway Station,
Santa Cruz East, Mumbai – 400055
Email-recli@asmacs.net
Phone Number: +91 7738758987(WA Only)