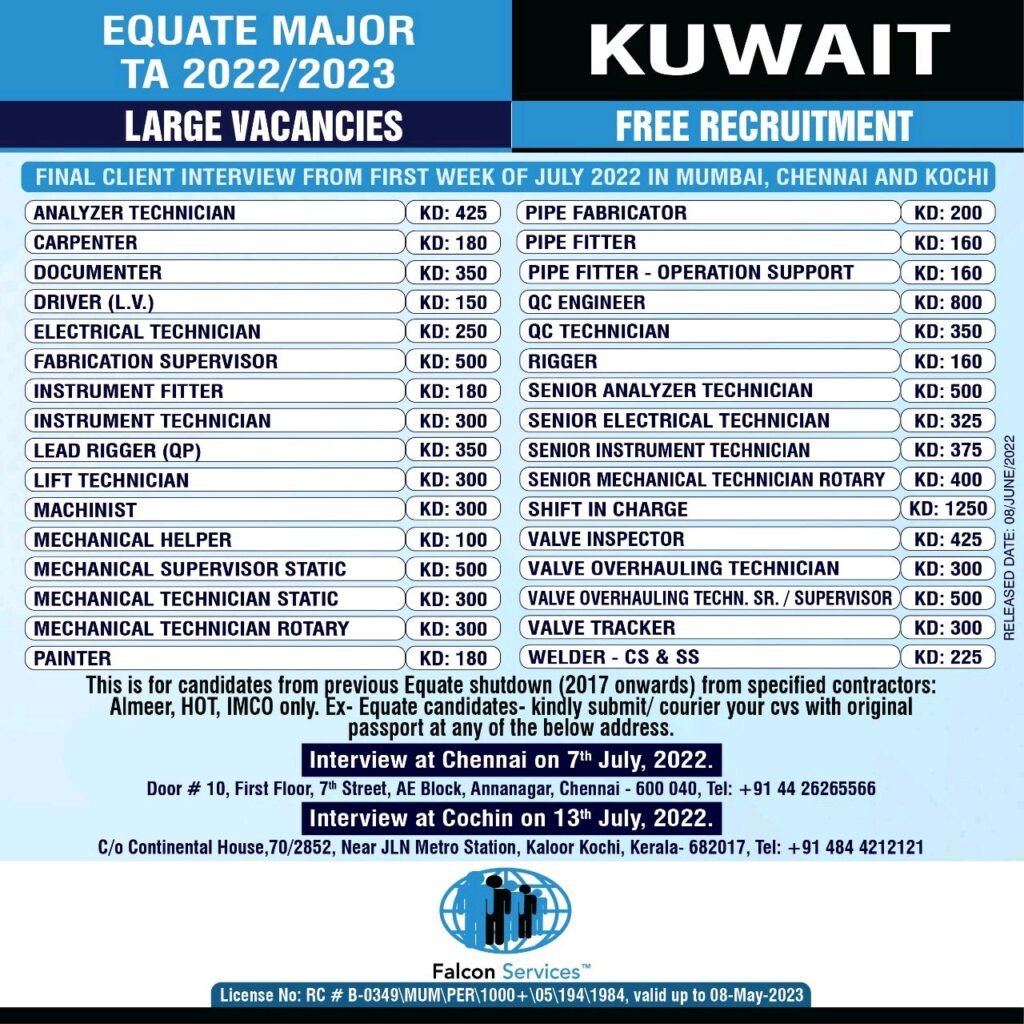 FREE REQUIREMENTS FOR KUWAIT
FINAL CLIENT INTERVIEW FROM FIRST WEEK OF JULY 2022 IN MUMBAI, CHENNAI AND KOCHI
》PIPE FABRICATOR
》PIPE FITTER
》ANALYZER TECHNICIAN
》DOCUMENTER
》CARPENTER
》PIPE FITTER- OPERATION SUPPORT
》DRIVER (LV)
》QC ENGINEER
》ELECTRICAL TECHNICIAN
》QC TECHNICIAN
》FABRICATION SUPERVISOR
》INSTRUMENT FITTER
》INSTRUMENT TECHNICIAN
》RIGGER
》SENIOR ANALYZER TECHNICIAN
》SENIOR ELECTRICAL TECHNICIAN
》LEAD RIGGER (QP)
》LIFT TECHNICIAN
》SENIOR INSTRUMENT TECHNICIAN
》SENIOR MECHANICAL TECHNICIAN ROTARY
》MACHINIST
》SHIFT IN CHARGE
》VALVE INSPECTOR
》MECHANICAL SUPERVISOR STATIC KD
》VALVE OVERHAULING TECHNICIAN
》MECHANICAL HELPER
》MECHANICAL TECHNICIAN STATIC
》PAINTER
》MECHANICAL TECHNICIAN ROTARY
》VALVE OVERHAULING TECHN. SR./ SUPERVISOR
》VALVE TRACKER
》WELDER – CS & SS
Interview Location and Date Given In Above Picture
Falcon Services Consultancy
License No: RC # B-0349 MUMPERY1000+105119411984
KUWAIT JOBS FOR A MULTINATIONAL COMPANY
JOB POSITIONS AVAILABLE
✓MECHANICAL FOREMAN
✓WELDING FOREMAN
✓RIGGING FOREMAN
✓RIGGER
✓PIPE FABRICATOR
✓FITTER
✓PAINTER/ SAND BLASTEER
✓HIGH PRESSURE HYDRO JETTER
✓MECHANICAL HELPER
✓VALVE TECHNICIAN
✓INSTRUMENT HELPER
✓INSTRUMENT TECHNICIAN
✓NDT TECHNICIAN

ALL MUST HAVE &-10 YEARS OF RELEVANT EXPERIENCE IN MAINTENANCE WORKS

SEND YOUR COMPLETE CV WITH COPY OF PASSPORT, EDUCATIONAL, EXPERIENCE & COMPLETE VACCINATION CERTIFICATE
Mena Support Consultancy Mumbai
914/A, Options Primo, 21st Road Near Passport Office, Marol MIDC Industry Estate Andheri East, Mumbai, 400093
B-0932/MUMIICOM/1000+/5/9345/2018
Urgently required for a leading Engineering & Construction Company involved in Refinery/ oil & Gas/ Petrochemical Projects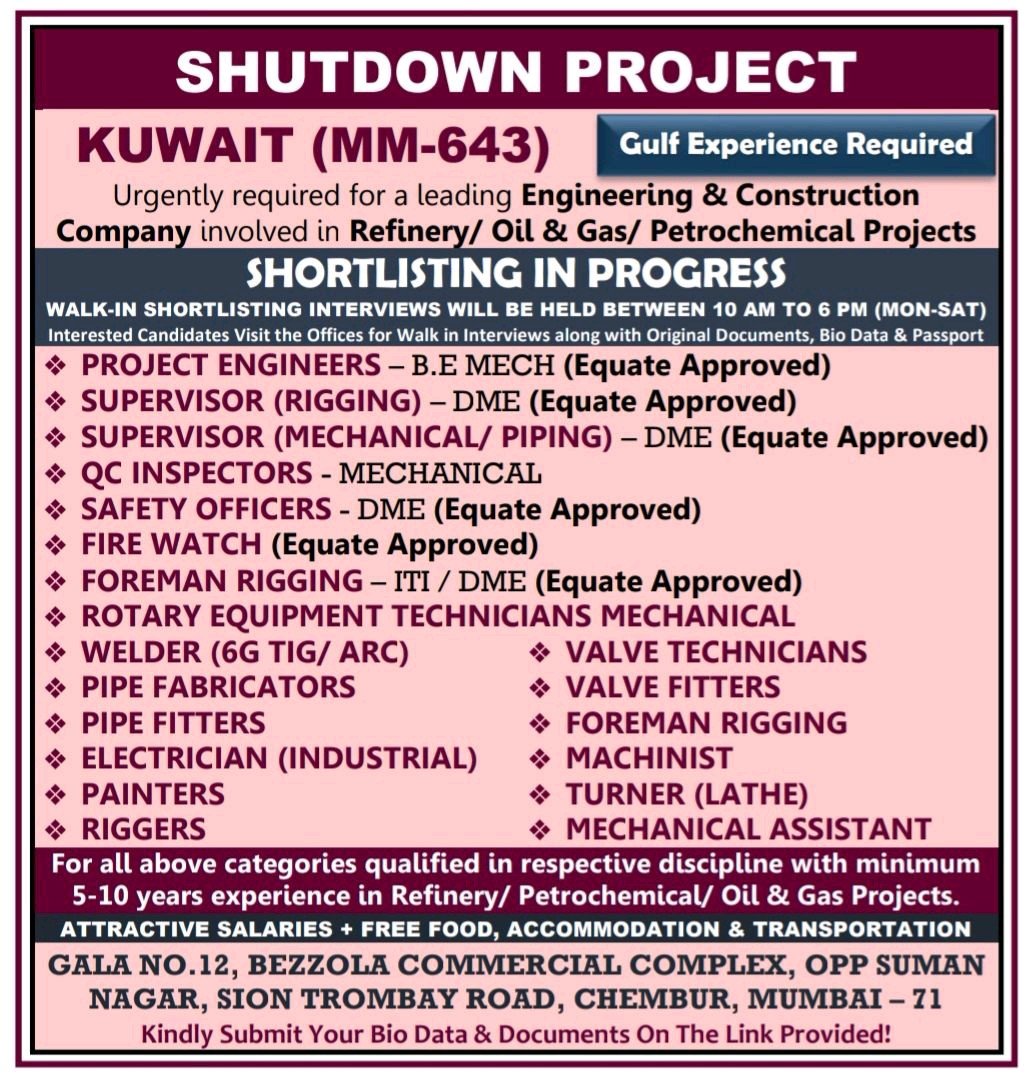 JOBS POSITION AVAILABLE
SHORTLISTING IN PROGRESS

WALK-IN SHORTLISTING INTERVIEWS WILL BE HELD BETWEEN 10 AM TO 6 PM (MON-SAT)

Interested Candidates Visit the Offices for Walk in Interviews along with Original Documents, Bio Data & Passport

✓PROJECT ENGINEERS B.E MECH (Equate Approved)
✓SUPERVISOR (RIGGING) – DME (Equate Approved)
✓SUPERVISOR (MECHANICAL PIPING) – DME (Equate Approved)
✓QC INSPECTORS – MECHANICAL
✓SAFETY OFFICERS – DME (Equate Approved)
✓FIRE WATCH (Equate Approved)
FOREMAN RIGGING – ITI / DME (Equate Approved)
✓ROTARY EQUIPMENT TECHNICIANS MECHANICAL
✓WELDER (6G TIG/ ARC)
✓PIPE FABRICATORS
✓PIPE FITTERS
✓ELECTRICIAN (INDUSTRIAL) ✓MACHINIST
✓PAINTERS
✓VALVE TECHNICIANS
✓VALVE FITTERS
✓FOREMAN RIGGINNG
✓TURNER (LATHE)
✓MECHANICAL ASSISTANT
✓RIGGERS

For all above categories qualified in respective discipline with minimum
5-10 years experience in Refinery/ Petrochemical/ Oil & Gas Projects.

ATTRACTIVE SALARIES+ FREE FOOD, ACCOMMODATION & TRANSPORTATION
Asiapower Overseas Consultancy Mumbai
GALA NO.12, BEZZOLA COMIMERCIAL COMPLEX, OPP SUMAN
NAGAR, SION TROMBAY ROAD, CHEMBUR, MUMBAI – 71
FREE RECRUITMENT ABU DHABI FOR STEAM TURBINE SHUTDOWN PROJECT
FINAL F2F CLIENT INTERVIEW
HYDERABAD VIZAG | CHENNAI

All the candidate must have Degree/Diploma/1TI relevant to their position and experience in Shutdown projects.

✓QAQC ENGINEER
✓MECHANICAL SUPERVISOR
✓MECHANICAL FOREMAN
✓INSTRUMENT TECHNICIAN
✓MECHANICAL TECHNICIAH
✓MECHANICS
✓RIGGER
✓NDT NDT INSPECTOR
✓SAFETY OFFICER
✓TECHNICAL ASSISTANT
✓SITE COORDINATORS

VACANCIES IN LARGE NUMBERS

INTERNATIONAL TRADE LINKS
GROUP OF COMPANIES REGD.N0: B0602/MUM/PART/1000+/5/2249/87

Queens mansion ,3rd floor,44 Amrit Keshav Nayak Marg. Behind Khadi Gramodyog, Fort, Mumbai – 400001.
BAHRAIN JOBS – REQUIRED FOR REPUTED COMPANY
JOB POSITIONS AVAILABLE

✓SALES ENGINEER
✓SALES EXECUTIVVE
✓SALES OFFICER

Graduate Engineer in Electrical or Electrical & Electronics Engineering

Total Work experience shall not be less than five (5) years (2+ years minimum should be in Bahrain) regarding sales of Electrical with Valid Bahrain Driving License.

Attractive salary & other benefits provided by company.

WALK-IN FOR SHORTLISTING IMMEDIATELY WITH COMPLETE CV, COPIES OF CERTIFICATES, ORIGINAL PASSPORT & COLOR PHOTOS TO OUR ADDRESS

ASMACS MUMBAI OFFICE

411, 4th Floor, Sai Chamber, opp. Railway Station,
Santa Cruz East, Mumbai – 400055
Urgently required for a leading Contracting Company involved in Refinery/ Petrochemical/ Oil & Gas Projects
JOB POSITIONS AVAILABLE
SHORTLISTING IN PROGRESS

GULE EXPERIENCE REQUIREDD

✓Fabrication Supervisor|
✓Fabrication Foreman
✓Pipe Fabricator
✓Multi Welder

Qualified in respective discipline with minimum 5-10
years experience in oil & Gas/ Petrochemicaly Refinery.

WALK-IN SHORTLISTING INTERVIEWS WILL BE HELD BETWEEN

10AM TO 6PM (MONDAY-SATURDAY)

Interested Candidates Visit The Offices For Walk In Interviews Along
With Original Documents, Bio Data & Passport

EXCELLENT SALARY + PERKS
Asiapower Overseas Consultancy Mumbai
GALA NO.12, BEZZOLA COMMERCIAL COMPLEX, OPP SUMAN
NAGAR, SION TROMBAY ROAD, CHEMBUR, MUMBAI-71
KINDLY SUBMIT YOUR BIO DATA & DoCuMENTS ON THE LINK PROVIDED!