REQUIRED FOR A SEMI GOVT COMPANY IN DUBAI UAE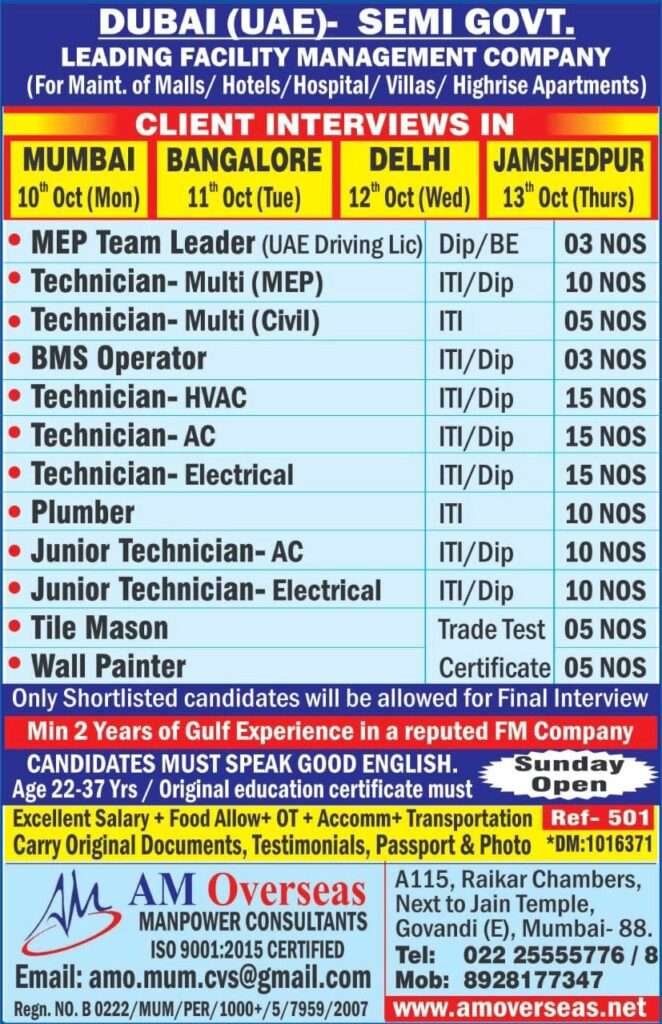 ⚫MEP Team Leader (UAE Driving Lic) Dip/BE

⚫Technician- Multi (MEP)

⚫Technician-Multi (Civil)

⚫BMS Operator

⚫Technician- HVAC

⚫Technician-AC.

⚫Technician- Electrical

⚫Plumber

⚫Junior Technician-AC

⚫Junior Technician- Electrical

⚫Tile Mason

⚫Wall Painter
LEADING FACILITY MANAGEMENT COMPANY (For Maint. of Malls/ Hotels/Hospital/ Villas/ Highrise Apartments) CLIENT INTERVIEWS IN MUMBAI, BANGALORE, DELHI, JAMSHEDPUR
10 Oct (Mon)
Only Shortlisted candidates will be allowed for Final Interview Min 2 Years of Gulf Experience in a reputed FM Company CANDIDATES MUST SPEAK GOOD ENGLISH. Age 22-37 Yrs /Original education certificate must Excellent Salary+ Food Allow+ 0T+Accomm+ Transportation
A115, Raikar Chambers, Next to Jain Temple, Govndi (E), Mumbai- 88.
Tel: 022 25555776/8928177347
Email: amo.mum.cvs@gmail.com Mob:
www.amoverseas.net
REQUIRED FOR FACILITY MANAGEMENT/HOTEL MAINTENANCE PROJECT IN UAE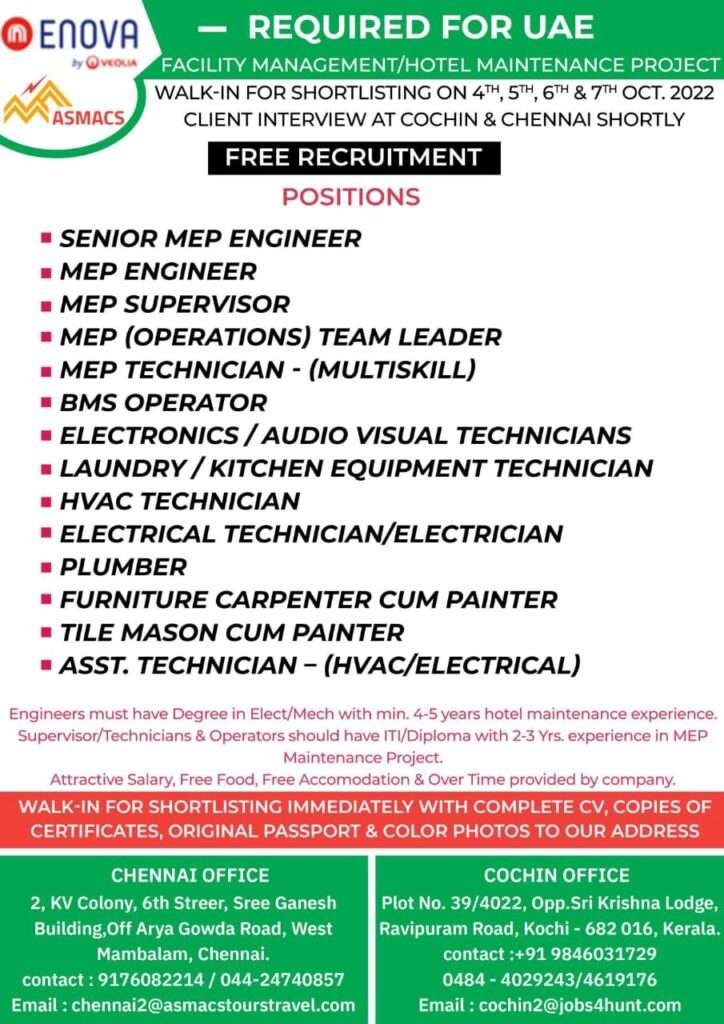 ✅SENIOR MEP ENGINEER

✅MEP ENGINEER

✅MEP SUPERVISOR

✅MEP (OPERATIONS) TEAM LEADER

✅MEP TECHNICIAN-(MULTISKILL)

✅BMS OPERATOR

✅ELECTRONICS/AUDIO VISUAL TECHNICIANS

✅LAUNDRY/KITCHEN EQUIPMENT TECHNICIAN

✅HVAC TECHNICIAN

✅ELECTRICAL TECHNICIAN/ELECTRICIAN

✅PLUMBER

✅FURNITURE CARPENTER CUM PAINTER

✅TILE MASON CUM PAINTER

✅ASST. TECHNICIAN- HVAC/ELECTRICAL
Engineers must have a Degree in Elect/Mech with min. 4-5 years hotel maintenance experience Supervisor/Technicians & Operators should have TVDiploma with 2-3 Yrs experience in MEP Maintenance Project.
Attractive Salary, Free Food, Free Accommodation & Over Time provided by the company.
WALK-IN FOR SHORTLISTING ON 4H,5TH, 6& 7TH OCT. 2022 CLIENT INTERVIEW AT COCHIN & CHENNAI SHORTLY FREE RECRUITMENT
WALK-IN FOR SHORTLISTING IMMEDIATELY WITH COMPLETE CV, COPIES OF CERTIFICATES, ORIGINAL PASSPORT& COLOR PHOTOS To OUR ADDRESS
COCHIN OFFICE Plot No. 39/4022, Opp.Sri Krishna Lodge, Ravipuram Road, Kochi – 682 016, Kerala.
contact:917608 2214 / 044-24740857
Email:cochin2@jobs4hunt.com

CHENNAI OFFICE 2, KV Colony, 6th Streer, Sree Ganesh Building.Off Arya Gowda Road, West Mangalam, Chennai.
Email: chennai2@asmacstourstravel.com
contact:+91 9846031729 0484-4029243/4619176
FREE REQUIREMENTS FOR A LEADING STEEL STRUCTURE FABRICATION COMPANY IN UAE
✅ASSISTANT DESIGN MANAGER: Structural/Civil Engineering background, Salary Range: 10k to 15K AED

✅SR. PROJECT ENGINEER: Civil Engineering background, Salary Range: 10k to 12K AED

✅SR. WORKSHOP ENGINEER: Mechanical Engineering background, Salary Range:10k to 12K AED
CANDIDATE AVAILABLE IN UAE CAN ALSO APPLY UAE EXPERIENCED COMPULSORY Structural Steel Fabrication background with exp.in heavy infra projects, Min 4+ years of UAE experience with similar companies Interested candidates can visit with their updated CV& Credentials OR apply online
202, 2 Floor, Bombay Market, Tardeo Road, Mumbai Central (W), Mumbai 34
Click Here For More Jobs
Email: mg24@mgheewala.com. Tel: 022 61666574/589/555
REQUIRED FOR SHUTDOWN PROJECT IN UAE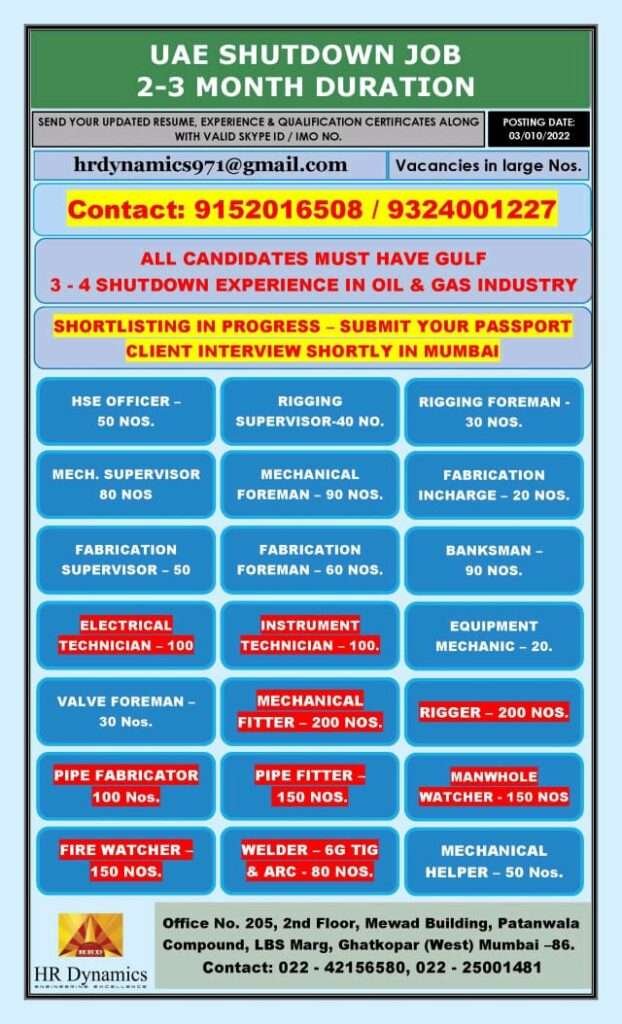 ✅RIGGING

✅RIGGING FOREMAN

✅HSE OFFICER

✅SUPERVISOR

✅MECH. SUPERVISOR

✅MECHANICAL

✅FABRICATION

✅FOREMAN

✅INCHARGE

✅FABRICATION

✅FABRICATION

✅BANKSMAN

✅SUPERVISOR

✅FOREMAN

✅ELECTRICAL

✅INSTRUMENT

✅EQUIPMENT

✅TECHNICIAN

✅TECHNICIAN

✅MECHANIC

✅VALVE FOREMAN-

✅MECHANICAL

✅RIGGER

✅FITTER

✅PIPE FITTER

✅PIPE FABRICATOR

✅MAN WHOLE

✅WATCHER

✅FIRE WATCHER-

✅WELDER- 6G TIG

✅MECHANICAL

✅& ARC .

✅HELPER
ALL CANDIDATES MUST HAVE GULF
3-4 SHUTDOWN EXPERIENCE IN OIL & GAS INDUSTRY SHORTLISTING IN PROGRESS SUBMIT YOUR PASSPORT CLIENT INTERVIEW SHORTLY IN MUMBAI
SEND YOUR UPDATED RESUME, EXPERIENCE & QUAUFICATION CERTIICATES ALONG ALUD SKYPE ID/ IM hrdynamics971@gmail.com Vacancies in large Nos.
office No. 205, 2nd Floor, Mewad Building, Patanwala Compound, LBS Marg, Ghatkopar (West) Mumbai -86.
Contact: 022 -42156580, 022 25001481
Contact: 9152016508 /9324001227
E-mail:- hrdynamics971@gmail.com