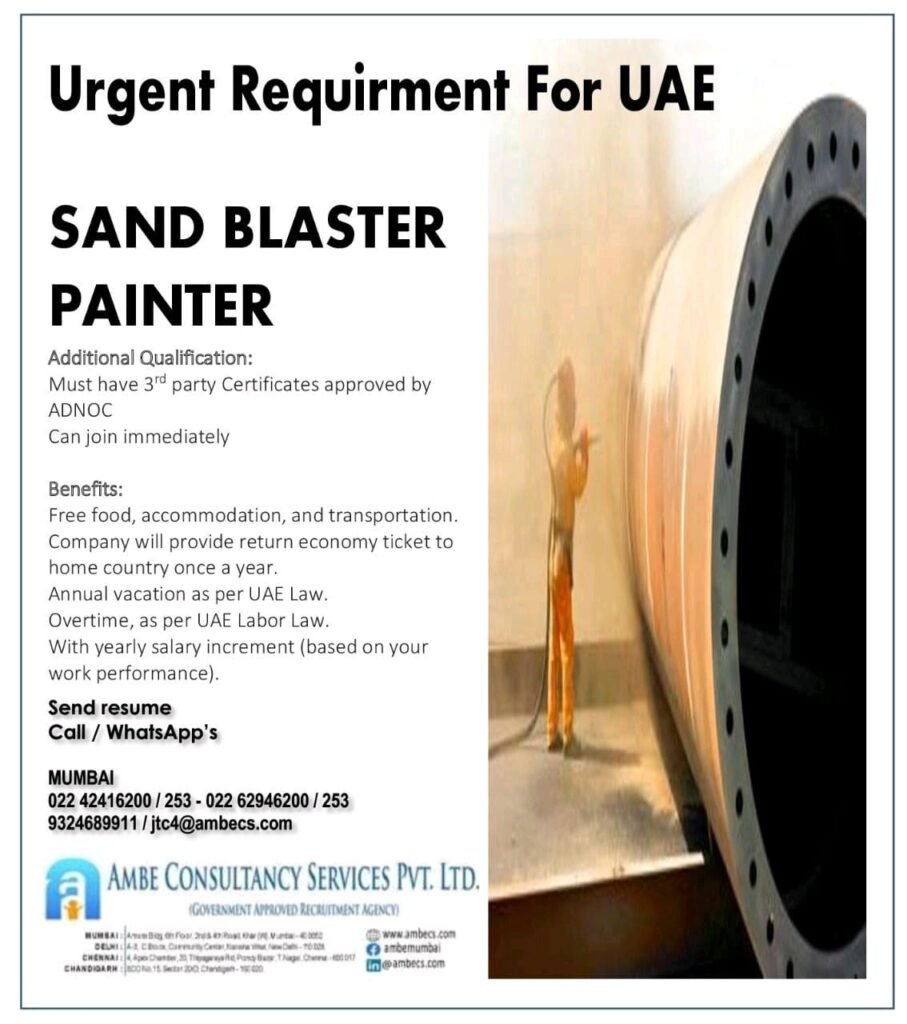 REQUIREMENT FOR UAE
▪️SAND BLASTER PAINTER
Additional Qualification:
Must have 3d party Certificates approved by ADNOC Can join immediately
Benefits: Free food, accommodation, and transportation.
Company will provide return economy ticket to home country once a year.
Annual vacation as per UAE Law Overtime, as per UAE Labor Law. With yearly salary increment (based on your work performance).
Send resume jtc4@ambecs.com
Call/WhatsApp's 022 42416200/ 253-022 62946200/ 253 9324689911/
AMBE CONSULTANCY SERVICES PVT.
FREE REQUIREMENTS FOR NPCC COMPANY IN UAE
▪️PROJECT CONTROLLER-Painting/ Blasting

▪️SUPERINTENDENT Fabrīcation / Piping / Welding / Rigging Scaffolding

▪️GENERAL FOREMEN- Fabrication / Piping / Welding/ Rigging /
Scaffolding/ Painting/ Blasting

▪️FOREMEN Fabrication/Piping/Welding/ Rigging/ Scaffolding/
Painting/ Blasting

▪️CHARGE HAND Fabrication/ Piping /Welding/Rigging/Scaffolding/
Painting/ Blasting

▪️LEAD/SENIOR OPERATION ENGINEERS

▪️GEOPHYSICISTS

▪️SENIOR HYDROGRAPHIC SURVEYORS

▪️SUPERVISORS Grouting/ Hydraulic Hammer/ Driling/Stinger/
Welding / Painting
Job aspirants having min. 5 yrs. of relevant&overseas exp with age up to 50 years may Apply with updated CV's, Certificates, Credentials &Passport Copy Immediately
FACE TO FACE CLIENT/VIRTUAL INTERVIEWS WILL BE CONDUCTED BY 3 WEEK OF SEPTEMBER 2022 IN COCHI VISHAKHAPATNAM OR CHENNAI. RUSH YOUR CV's FOR IMMEDIATE SHORTLISTING:
Email: hrdept@indman.com Tel: 0484 2374690/91
Indman Management Consultants Pvt. Ltd.
An ISO 9001:2015 Certified Agency
41-B, Excel Building, Road No.2, Azad Nagar, off Veera CPG Lndman Desai Road, Andheri (West), Mumbai- 400053
REQUIREMENT FOR A KOREAN COMPANY OIL&GAS PROJECT IN UAE
▪️PAINTERS – 20 NOS

▪️BLASTERS -10 NOS
CONTRACT DURATION 6 MONTHS & RENEWABLE MINIMUM 3 YEARS GULF EXPERIENCE 3RD PARTY CERTIFICATES APPROVED BY ADNOC PREFERRED
ATTRACTIVE SALARY WITH OTHER BENIFITS PROVIDED BY COMPANY
SEND YOUR CV WITH COPIES OF EDUCATIONAL, EXPERIENCE CERTIFICATE AND PASSPORT COPY, INCOMPLETE CV WILL NOT ACCEPTABLE
CONTACT MR: NIHAR
Telephone 02261041786/705/706
Whats app- 02261041705/706
E-mail sourcing5@menalimited.com
Office No. 14, Options Primo,
21'st Road Marol MIDC Industrial
Estate, Near Passport Office Andheri (E),
Mumbai: 400093 Maharastra, India
---