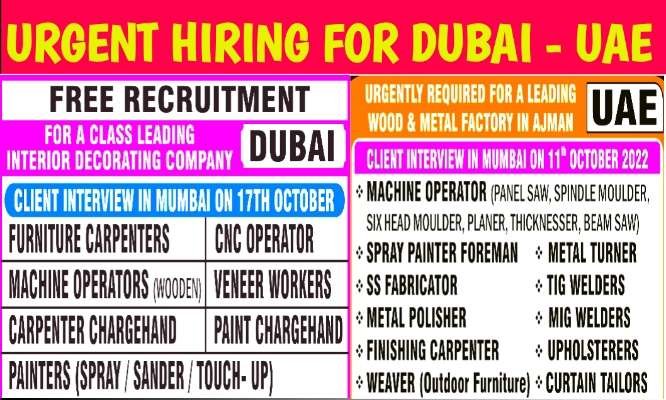 FREE REQUIREMENTS FOR BELOW POSITIONS
CLIENT INTERVIEW IN MUMBAI ON 17TH OCTOBER
✅FURNITURE CARPENTERS

✅MACHINE OPERATORS (WOODEN)

✅VENEER WORKERS

✅CNC OPERATOR

✅CARPENTER CHARGEHAND

✅PAINT CHARGEHAND

✅PAINTERS (SPRAY/ SANDER / TOUCH-UP)
How To Apply For Above Jobs Opening?
Apply or Contact or Email your updated CV with xerox copy of Certificates To:
CLICK HERE TO DOWNLOAD FREE ASSIGNMENT ABROAD TIMES NEWSPAPER
Urgently Required For A Leading Wood and Metal Factory in Ajman UAE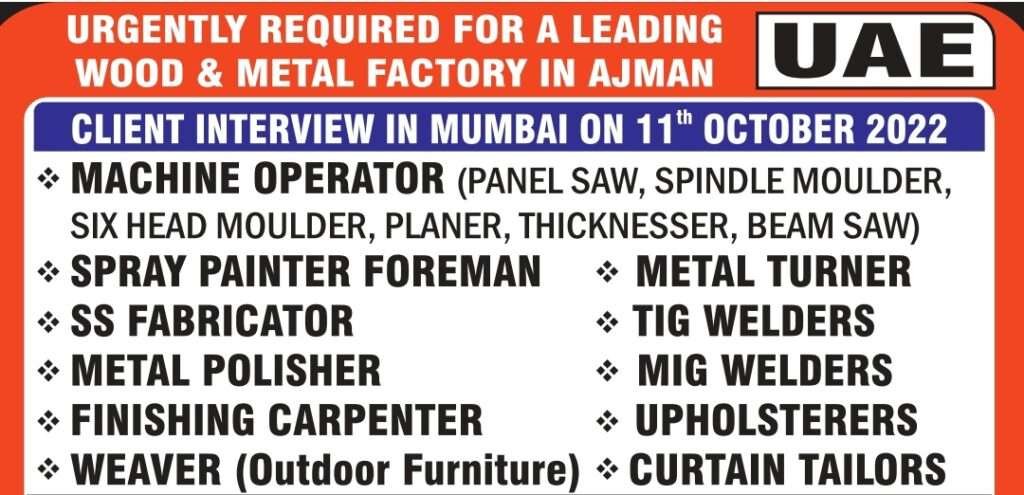 JOB POSITIONS OPENING LIST
CLIENT INTERVIEW IN MUMBAI ON 11th OCTOBER 2022

✅MACHINE OPERATOR (PANEL SAW, SPINDLE MOULDER, SIX HEAD MOULDER, PLANER, THICKNESSER, BEAM SAW)

✅SPRAY PAINTER FOREMAN

✅METAL TURNER

✅SS FABRICATOR

✅TIG WELDERS

✅MIG WELDERS

✅METAL POLISHER

✅FINISHING CARPENTER + UPHOLSTERERS

✅WEAVER (Outdoor Furniture)

✅CURTAIN TAILORS
How To Apply For Above Jobs Opening?
Candidates Should Have 5+ Years Of Experience in Respective Field and GCC Experience Will Be Highly Preferable.