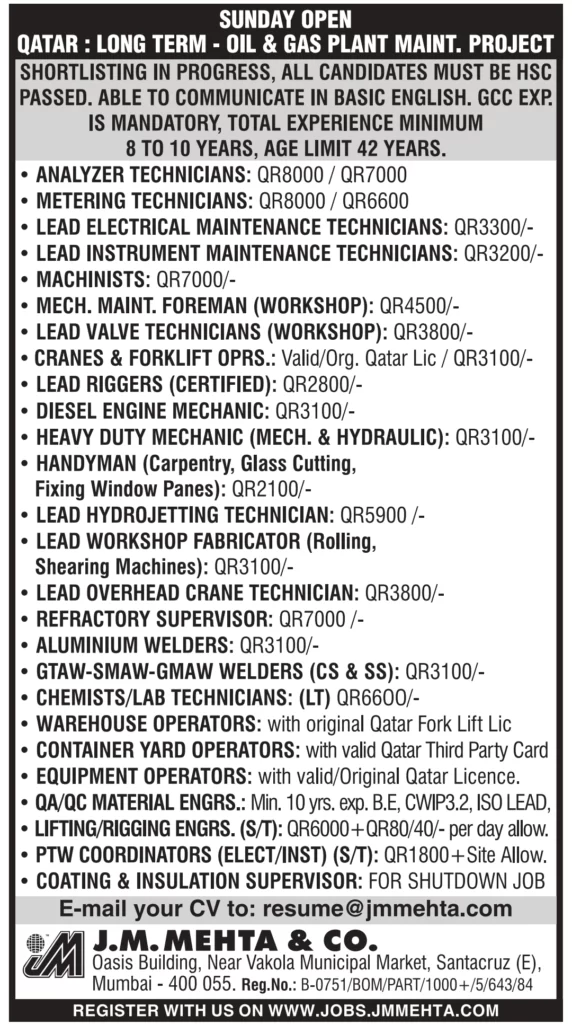 JOBS OPENING CATEGORY LIST AS BELOW ⬇️
SHORTLISTING IN PROGRESS, ALL CANDIDATES MUST BE HSC PASSED. ABLE TO COMMUNICATE IN BASIC ENGLISH. GCC EXPERIENCE IS MANDATORY, TOTAL EXPERIENCE MINIMUM 8 TO 10 YEARS, AGE LIMIT 42 YEARS.

ANALYZER TECHNICIANS: QR8000/ QR7000
METERING TECHNICIANS: QR8000 / QR6600
LEAD ELECTRICAL MAINTENANCE TECHNICIANS: QR3300/-
LEAD INSTRUMENT MAINTENANCE TECHNICIANS: QR3200/-
MACHINISTS: QR7000/-
MECH. MAINT. FOREMAN (WORKSHOP): QR4500/-
LEAD VALVE TECHNICIANS (WORKSHOP): QR3800/-
CRANES & FORKLIFT OPRS.: Valid/Org. Qatar Lic / QR3100/-
LEAD RIGGERS (CERTIFIED): QR2800/-
DIESEL ENGINE MECHANIC: QR3100/-
HEAVY DUTY MECHANIC (MECH. & HYDRAULIC): QR3100/-
HANDYMAN (Carpentry, Glass Cutting, Fixing Window Panes): QR2100/-
LEAD HYDROJETTING TECHNICIAN: QR5900 /-
LEAD WORKSHOP FABRICATOR (Rolling, Shearing Machines): QR3100/-
LEAD OVERHEAD CRANE TECHNICIAN: QR3800/-
REFRACTORY SUPERVISOR: QR7000/-
ALUMINIUM WELDERS: QR3100/-
GTAW-SMAW-GMAW WELDERS (CS & SS): QR3100/-
CHEMISTS/LAB TECHNICIANS: (LT) QR6600/-
WAREHOUSE OPERATORS: with original Qatar Fork Lift Lic
CONTAINER YARD OPERATORS: with valid Qatar Third Party Card
EQUIPMENT OPERATORS: with valid/Original Qatar Licence.
QA/QC MATERIAL ENGRS.: Min. 10 yrs. exp. B.E, CWIP3.2, ISO LEAD,
LIFTING/RIGGING ENGRS. (S/T): QR6000+QR80/40/- per day allow.
PTW COORDINATORS (ELECT/INST) (S/T): QR1800+Site Allow.
COATING & INSULATION SUPERVISOR: FOR SHUTDOWN JOB
How To Apply For Above Jobs Opening?
Assignment Abroad Times E-Paper Download Free In PDF File – Click Here
E-mail your CV to: resume@jmmehta.com