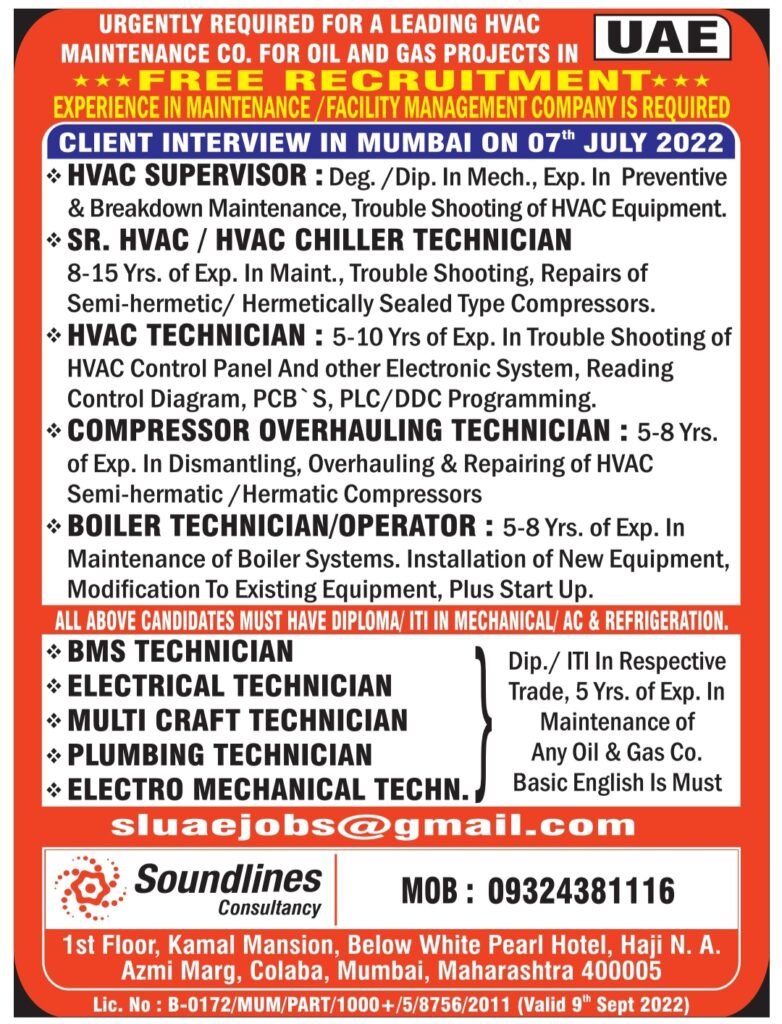 URGENTLY REQUIRED FOR A LEADING HVAC MAINTENANCE CO. FOR OIL AND GAS PROJECTS IN UAE| FREE RECRUITMENT**
JOBS VACANCY AVAILABLE
EXPERIENCE IN MAINTENANCE/FACILITY MANAGEMENT COMPANY IS REOUIRED
CLIENT INTERVIEW IN MUMBAI ON 07th JULY 2022
》HVAC SUPERVISOR:Deg./Dip. In Mech., Exp. In Preventive &Breakdown Maintenance, Trouble Shooting of HVAC Equipment.
》SR. HVAC/ HVAC CHILLER TECHNICIAN 8-15 Yrs. of Exp. In Maint., Trouble Shooting, Repairs of Semi-hermetic/ Hermetically Sealed Type Compressors.
》HVAC TECHNICIAN: 5-10 Yrs of Exp. In Trouble Shooting of HVAC Control Panel And other Electronic System, Reading Control Diagram, PCBS, PLC/DDC Programming.
》COMPRESSOR OVERHAULING TECHNICIAN 5-8 Yrs. of Exp. In Dismantling, Overhauling & Repairing of HVAC Semi-hermatic /Hermatic Compressors
》BOILER TECHNICIAN/OPERATOR:5-8 Yrs. of Exp. In Maintenance of Boiler Systems. Installation of New Equipment, Modification To Existing Equipment, Plus Start Up.
ALL ABOVE CANDIDATES MUST HAVE DIPLOMA/ ITI IN MECHANIGAL AC & REFRIGERATION.
》BMS TECHNICIAN
》ELECTRICAL TECHNICIAN
》MULTI CRAFT TECHNICIAN
》PLUMBING TECHNICIAN
》ELECTRO MECHANICAL TECHN.
Dip./ITI In Respective Trade, 5 Yrs. of Exp. In Maintenance of Any Oil &Gas Co. Basic English Is Must
Soundlines Consultancy Mumbai
1st Floor, Kamal Mansion, Below White Pearl Hotel, Haji N. I Azmi Marg, Colaba, Mumbai, Maharashtra 400005
Lic. No: B-0172/MUM/PART/1000+/5/8756/2011 (Valid 9 Sept 2022)
FREE RECRUITMENT FOR A LEADING OIL AND GAS COMPANY IN OMAN
JOB POSITIONS AVAILABLE
CLIENT INTERVIEW ON 7th July 2022
》Painting Supervisor: Deg/Dip +5Yrs Exp. In panting & coating
》Permit Holder
》Sand Blaster
》Spray Painter: Min 5 yrs exp in Sand Blasting Epoxy Coating etc. Spray Painting Work, Industrial Painting.
》Scaffolders/Scaffolding Foreman
Free Food & Accom. Provide By Company
ARVIND ManPower Solutions (p) Ltd
Anuptech Institute Mumbai
R-84, TTC Industrial Area, MIDC, Rabale, Navi Mumbai 701
JOB FOR KUWAIT IN CATERING COMPANY
JOB POSITIONS AVAILABLE
CLIENT INTERVIEW MUMBAI ON 13, 14 JULY 2022 &KOLKATA ON 19, 20 JULY 2022
》PROJECT MANAGER (CATERING)
》PROJECT SUPERVISOR (CATERING)
》FIELD SUPERVISOR
》HOUSEKEEPING SUPERVISOR
》STEWARD SUPERVISOR (HOTEL EXP)
》CLEANING SUPERVISOR (HOTEL EXP)
》HOUSEKEEPING SUPR TRAINER
》COOK TRAINER (ndian, Arabic & continental kitchens)
》CAMP BOSS TRAINER
》CAMP BOSS
》KITCHEN MAINTENANCE TECH
》HOUSEKEEPING
》SOUTH INDIAN COOK
》COOKS
》ASSISTANT COOK
》HELPERS
Candidates must have F&B or hotels Experience
Food, Transportation, Accom, Mobile Sim Provided by company
Shortlisting in Progress, Rush with your CV
BISMILLAH ENTERPRISES
Shop No.09, Crystal Park CHD Ltd. Nr. Markez Restaurant, 134, S.V. Rd,
Agrawal Estate, Near New Flyover, Jogeshwari (W), Mumbai- 400102
Reg. No. B-858/MUM/PART1000+/5/8733/2011
JOBS IN OMAN FOR A LEADING COMPANY
JOB VACANCY AVAILABLE
》DIESEL MECHANIC HEAVY VEHICLES
》ENGINE & GEARBOX MECHANIC
》AUTO ELECTRICIAN CUM AC TECHNICIAN
》CONCRETE PUMP MECHANIC
》HVAC CONTROL TECHNICIAN BMSS
》MOTOR WINDER
》WAITER (For Company Chairman)
》GARDENER
AEROSEA TRAUELS& TOURS
512 Crescent Business Square, Kherani Road, Saki Naka, Andheri (E), Mumbai – 400072
Rgn. No. B-0241/BOM/PER/1000 +/3/445/1984
REQUIRED FOR OIL AND GAS MAINTENANCE PROJECT IN UAE
JOB POSITIONS AVAILABLE HERE
CLIENT INTERVIEW IN MUMBAI ON 06″ JULY 2022
》HVAC CHILLER TECHNICIAN (SR/JR)
》HVAC CONTROL TECHNICIAN
》COMPRESSOR OVERHAULING/ MECHANICAL TECHNICIAN
》BOILER OPERATOR HVAC SUPERVISOR
TECHNICIAN (ELECTRICAL, PLUMBING, BMS, BOILER, MULTI-CRAFT, ELECTRO-MECHANICAL)
FREE FOOD, ACCOMMODATION, TRANSPORTATION. MUST HAVE GULF EXP
REQUIRED IN LARGE NUMBER FOR METRO PROJECTS IN SAUD SHORLISTING IN PROGRESS
》MECHANICAL TECHNICIANS
EXPERIENCE IN READ DRAWING&TESTING MECHANICAL INSTRUMENTS (HVAC/ FIREFIGHTING/ PLUMBING)
Walk-in with Original Passport, 2 sets of CV's, Photos & all documents.
AMBE CONSULTANCY SERVICES PVT. LTD.
6th Floor, Amore Building, 2nd & 4th Road, Near Railway Station. Khar (W) Mumbai – 52

Lic. No. B-0254/MUM/COM/1000+/5/7295/2005
FREE REQUIREMENTS FOR KUWAIT SHUTDOWN PROJECT
JOB POSITIONS AVAILABLE AS LIST
CLIENT INTERVIEW ON 25t, 26t & 27 JULY AT ANUPTECH, R-421, MIDC, Rabale, Navi Mumbai
》SUPERVISORS Mechanical/ Piping/Electrical/ Instrumentation
》FOREMAN Mech./Rigging/Hydroblasting/ Painting
》FITTERS General/ Pipe/Tray
》WELDERS– CS/SS
》TECHNICIANS Valve/Lubricant
》FABRICATORS-PIPE
》MECHANICAL TECHNICIANS-Static/Rotary
》GRINDERSS

》INSTRUMENT Technicians/Fitter
》ELECTRICIANS

》PAINTERS
》HYDRO BLASTERS
》RIGGERS
》SAND BLASTERS FIRE WATCH
》HELPERS
Only shortlisted candidates can attend the interview 1 preference
SAUD PLACEMENT SERVICES
ADDRESS 1OC, S-07, 2″ Floor, Haware Fantasia Business Park, Plot No. 47|
Sector-30A, Nr. Vashi Railway Station, Vashi, Navi Mumbal-400 703.
REGN. No. B-0065/DL/PART/1000+/5/6740/2004
JOBS IN UAE AND KUWAIT
JOB POSITIONS LIST AS BELOW
》CHIEF STEWARDS (Food Industry-Washup & Store)
》THERMOFORMING FACTORY (PLASTIC INDUSTRY)
》TOOL & DIE DESIGNERS SALESMEN (Ex-Gulf)
》CNC LATHE PROGRAMMER/OPERATORS

》CNC MILLING PROGRAMMER/OPERATORS
》SALES MANAGERS (EX-Guf Plastic Disposable)
》EXPORT MANAGERS (Ex Gulf Plastic Industry)
》THERMOFORMING OPERATORS PET/PP/PS
》EXTRUDER OPERATORS-PET/PP/PS
Above all candidates must have 5 to 7 years of Exp. preferably in Middle East

M/S. ACME ENTERPRISES
Flat No 28, Gr. filr, Damji shamji industrial Estate, Vikroli (W), L.B.S Marg, Mumbai.
Reg. No: B-0313/MUM/PER/1000 +-/5/8283/2008