FREE RECRUITMENT || NO SERVICE CHARGE
REQUIREMENTS FOR A GARMENT MFG CO. IN JORDAN
(INTERVIEW IN MUMBAI 1ST 6TH AUG)

✓PACKING SUPERVISOR
✓LINE SUPERVISORR
✓FABRIC INSPECTOR
✓IE EXECUTIVE
✓PRESSMAN
✓CUTTER
ATTRACTIVE SALARY WITH FREE FOOD, ACCOMM,MEDICAL AND TRANSPORT PROVIDED BY THE CO.

PLEASE COME ALONG WITH CV, PASSPORT, EXPERIENCE CERTIFICATES & PHOTOGRAPH

A-1, 1st Floor, Aurum Enclave, Opp. Vakola Masjid,Trademen Main Road, Vakola, Santacruz (E), Mumbal- 55
Call :9892317666 /9029002741
Aoproved by Gov. 0f ndia (MEA)
Licence No: B-0198/MUM/PER/1000-/5/8097/2007
KOREA – REQUIRED FOR SHIPYARD PROJECT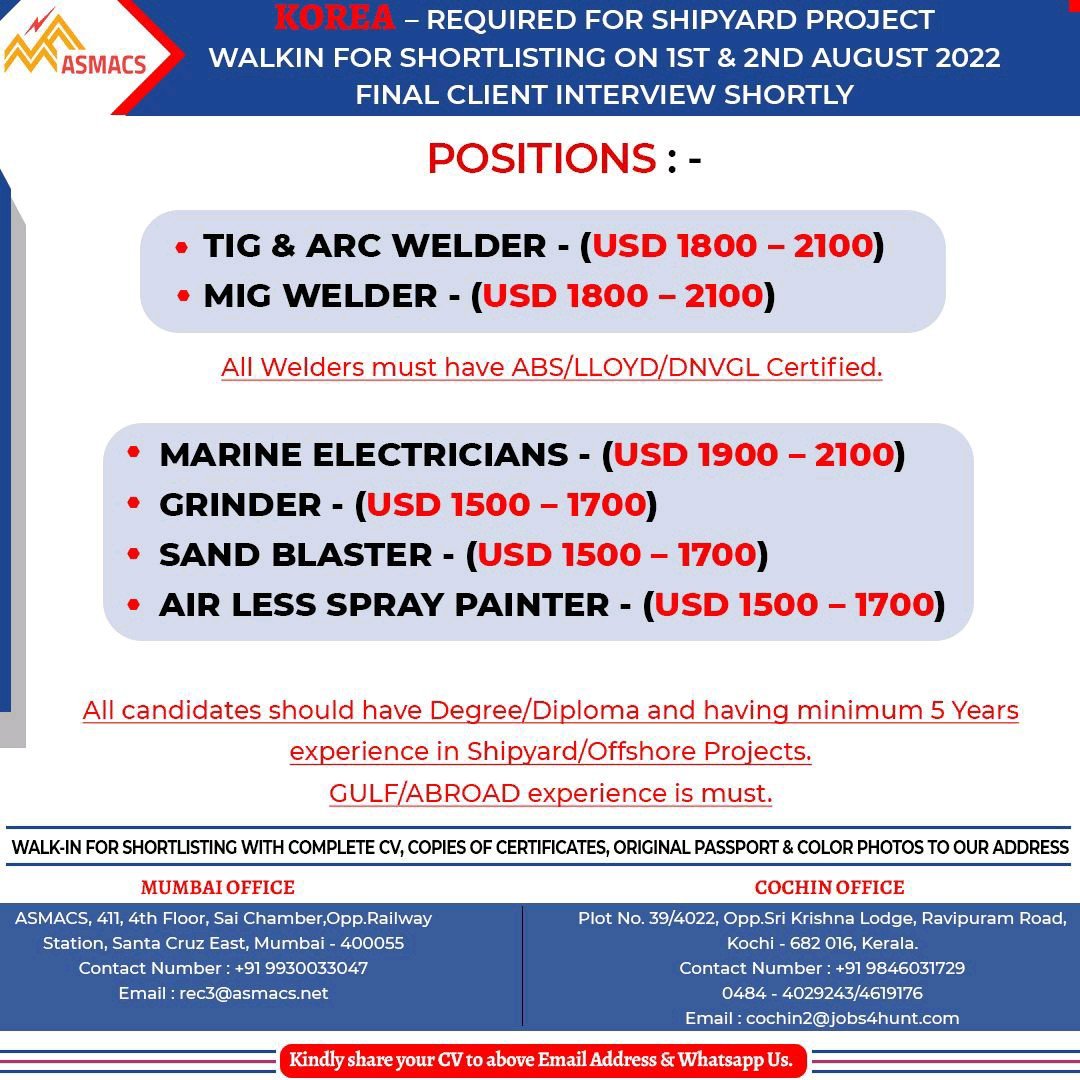 WALK-IN FOR SHORTLISTING ON 1ST & 2ND AUGUST 2022
FINAL CLIENT INTERVIEW SHORTLY

JOB OPENING POSITIONS

✓TIG & ARC WELDER (USD 1800-2100)
✓MIG WELDER (USD 1800-2100)

All Welders must have ABS/LLOYD/DNVGL Certified.

✓MARINE ELECTRICIANS (USD 1900- 2100)
✓GRINDER (USD 1500-1700)
✓SAND BLASTER (USD 1500 170o)
✓AIR LESS SPRAY PAINTER – (USD 1500 1700)
All candidates should have Degree Diploma and having minimum 5 Years
experience in Shipyard/offshore Projects,

GULF/ABROAD experience is must.

WALK-IN FOR SHORTLISTING WITH COMPLETE CV, COPIES OF CERTIFICATES, ORIGINAL PASSPORT & COLOR PHOTOS TO OUR ADDRESS

MUMBAI OFFICE
411, 4th Floor, Sai Chamber,Opp.Railway Station, Santa Cruz East, Mumbai – 400055

Contact Number: +91 9846031729
Email: rec3@asmacs.net
0484-4029243/4619176

COCHIN OFFICE
Plot No. 39/4022, Opp.Sri Krishna Lodge, Ravipuram Road, Kochi- 682 016, Kerala.

Contact Number: +91 9930033047
Email : cochin2@jobs4h unt.com

Kindly share your CV to above Email Address & Whatsapp Us.
KUWAIT – Urgently required for a leading Company involved in OIL & GAS PETROCHEMICAL/ REFINERY MAINTENANCE PROJECTS
SHORTLISTING IN PROGRESS

WALK-IN SHORTLISTING INTERVIEWS IN MUMBAI/ CHENNAI/KOCHI & VADODARA TIME: 10AM TO 6PM (MON-SAT)

Interested candidates visit the Offices for walk in Interviews along with Original Documents, Bio Data & Passport.

✓ENGINEER INSTRUMENT MAINTENANCE
✓DCS ENGINEER (KD 1375)
✓SUPERVISOR INSTRUMENT (KD 825)
✓TECHNICIANS- – ANALYSER (KD 440)
✓TECHNICIANS CONTROL VALVE
✓A/C CONTROL TECHNICIAN (KD 350)
✓A/C ELECTRICIAN (KD 350)

All Candidates should have Engineers-8 years, Supervisors-10 years & Technicians-8 years experience in Oil & Gas/ Refinery Maintenance field.

Very good command of English/ Arabic languages.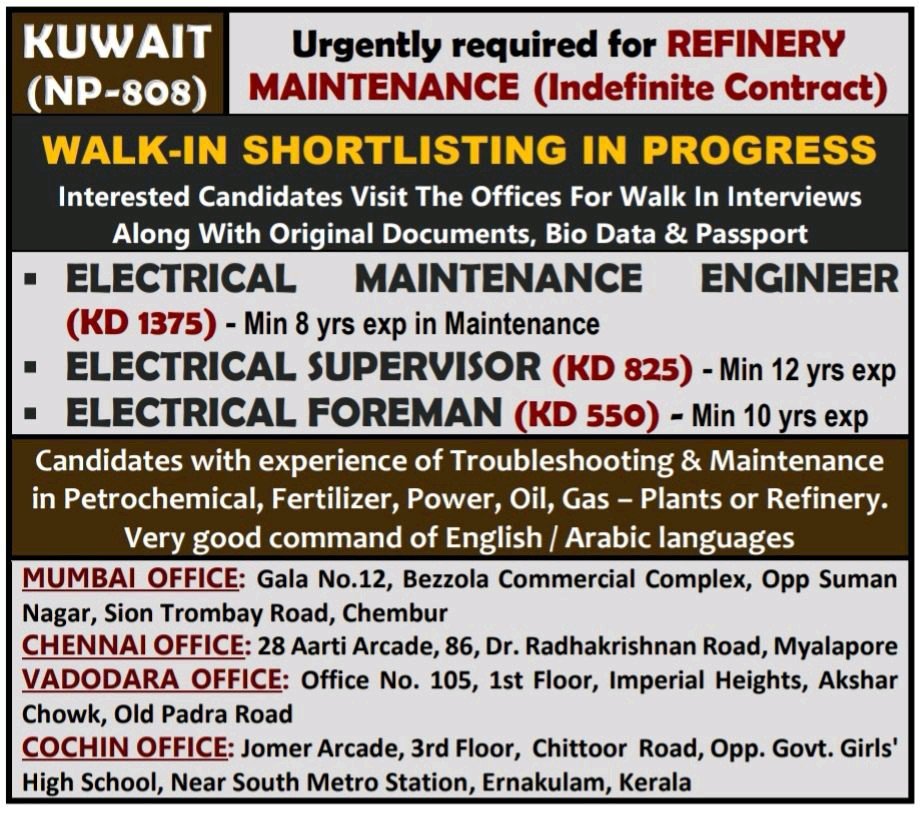 KUWAIT – Urgently required for REFINERY MAINTENANCE (Indefinite Contract)
WALK-IN SHORTLISTING IN PROGRESS

Interested Candidates Visit The Offices For Walk In Interviews Along With Original Documents, Bio Data & Passport

✓ELECTRICAL MAINTENANCE ENGINEER
(KD 1375)- Min 8 yrs exp in Maintenance

✓ELECTRICAL SUPERVIsOR (KD 825) – Min 12 yrs exp

✓ELECTRICAL FOREMAN (KD 550)- Min 10 yrs exp

Candidates with experience of Troubleshooting & Maintenance Petrochemical, Fertilizer, Power, Oil, Gas – Plants or Refinery.
MUMBAI OFFICE 206, BEZZOLA COMMERCIAL COMPLEX, OPP SUMAN NAGAR, SION-TROMBAY, CHEMBUR

VADODARA OFFICE: OFFICE NO. 105, 1ST FLOOR IMPERIAL HEIGHTS, AKSHAR CHOWK, OLD PADRA ROAD

CHENNAI OFFICE: 28 AARTI ARCADE, 86, DR.RADHAKRISHNAN ROAD, MYALAPORE

KOCHI OFFICE: JOMER ARCADE, 3RD FLOOR, SOUTH JUNCTION, CHITTOORROAD, OPP GIRLS HIGH SCHOOL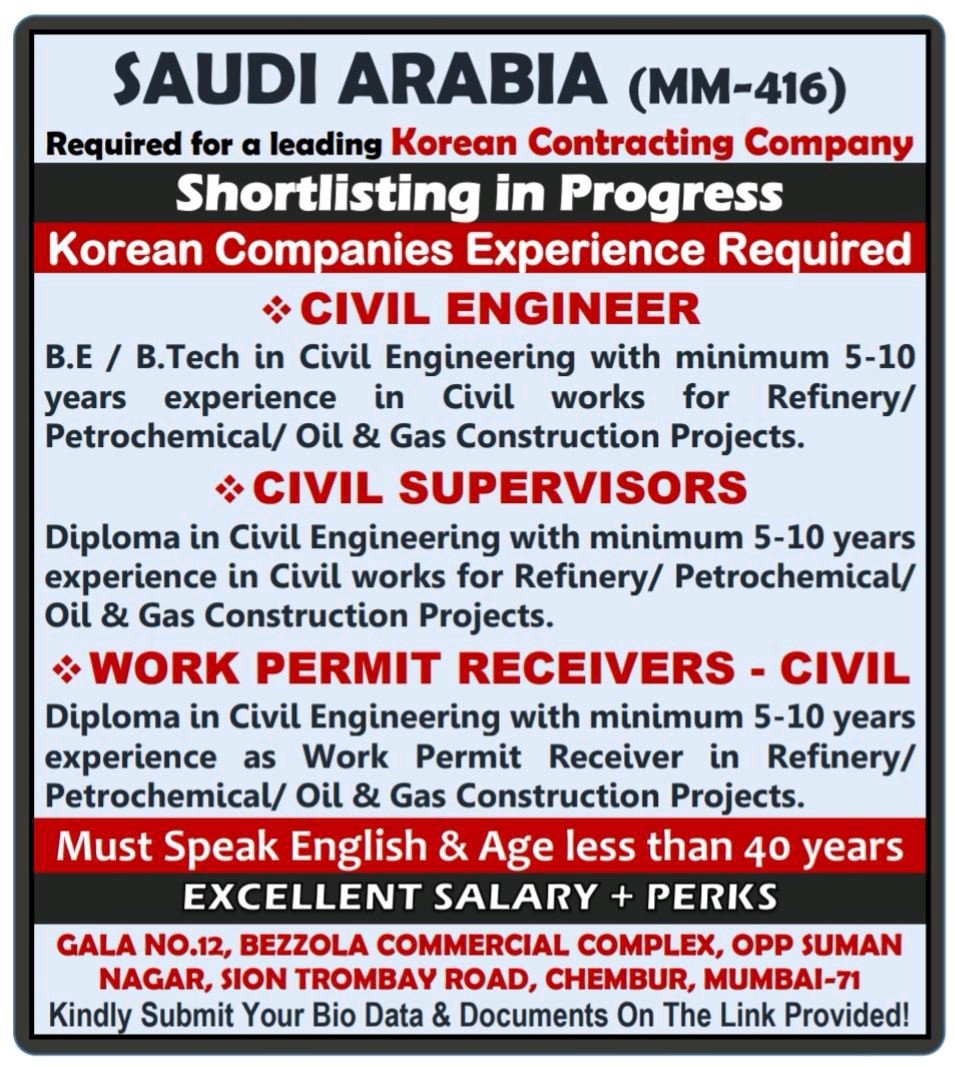 Required for a leading Korean Contracting Company in SAUDI ARABIA
Shortlisting in Progress

Korean Companies Experience Required

✓CIVIL ENGINEER
B.E/ B.Tech in Civil Engineering with minimum 5-10 years experience in Civil works for Refinery/Petrochemical/ Oil & Gas Construction Projects.

✓CIVIL SUPERVIsORS
Diploma in Civil Engineering with minimum 5-10 years experience in Civil works for Refinery/ Petrochemical/oil & Gas Construction Projects.

✓WORK PERMIT RECEIVERS CIVIL
Diploma in Civil Engineering with minimum 5-10 yearsexperience as Work Permit Receiver in Refinery/Petrochemical/ Oil & Gas Construction Projects.

Must Speak English & Age less than 40 years

EXCELLENT SALARY + PERKS

GALA NO.12, BEZZOLA COMMERCIAL COMPLEX, OPP SUMAN NAGAR, SION TROMBAY ROAD, CHEMBUR, MUMBAI-71
URGENTLY REQUIRED FOR LEADING COMPANY IN SAUDI ARABIA
(Client Intervicw on 5th & 6th Aug in Mumbai & 7th Aug in Delhi)

✓Engineer: Mech/Instrument/Civil (Dip/Deg)
✓Supervisor: Refactory/ Painting
✓Safety Officers (IOSH/NEBOSH)
✓ERP/SAP Specialist
✓Work Permit Receiver
✓RTR Technician
✓Hydrojetters
✓Hydrojetting Operators
✓Coating Inspector (QC)
✓Planning Engr (Civil/Mech)
✓Secretary
✓Optrs: Multi Equipment /Asphalt Machine
✓Mechanic: Hydraulic/Diesel/Equipment/Heavy
✓Refactory Gunman/NozzeMan
✓Electrician: Industrial /Auto
✓Blaster
✓Drivers& Operators
✓Genaral Mason Heavy driver
✓Cladder
✓Tile Fixer
✓Insulator
✓S/Carpenter Airless
✓Plumber
✓Cladding Fabricators
✓Brush/Roller Painter
✓Spray Painter
✓Steel Fixer

For more info, contact us:

8976166163/9167596084

CLICK HERE FOR MORE JOB

Min 4-7years of exp in same field
Contact immediately with CV &
Passport

Saudijobs@transasia.info

204 Abba Residency opp Railway station,
Jogeshwari West, Mumbai, Maharashtra
400102