REQUIRED FOR ONE OF THE LARGEST OIL & GAS INDUSTRY MNC COMPANY FOR ROMANIA (SWEDEN & BELGIUM)
DELEGATION INTERVIEW AT MUMBAI & VISAKHAPATNAM IN 4TH WEEK OF JULY 2022
JOB CATEGORY
✓WELDER TIG& ARC
✓PIPE FITTER
✓METAL STRUCTURES INSTALLER(DUCT)
✓FITTERS STRUCTURAL
✓CRANES HEAVY
✓RIGGER-CERTIFIED
✓FOREMAN WELDING, PIPING
✓SUPERVISOR WELDING, PIPING
✓DRIVERS HEAVY
✓SCAFFOLDER
✓INSULATOR
✓PAINTER
✓HELPER
✓HSE OFFICER
✓MILLWRIGHT
✓MECHANICAL TEAM LEADERS
✓SEMI SKILLED
✓MILLWRIGHT FOREMAN
✓ERECTION FOREMAN
✓MECH FITTER FOREMAN
✓MILLWRIGHT SUPERVISOR
✓ERECTION SUPERVISOR
✓MECH FITTER SUPERVISOR

FREE FOOD, ACCOMMODATION & OVERTIME.

PLEASE APPLY WITH FULL SET OF CVS WITH EXP, EDU CERT PP COPY.
ONLY SHORTLISTED CANDIDATES CALL FOR INTERVIEW. AGE 21-45 YRS.

ONLY OIL& GAS MINM EXP 5 YRS.
4833/MUM/PER/1000/5/7488/2006 Certified)

601- Shubham Atlanta Bldg – Opp Chembur Police Station- Near Basant Park. Chembur- East- Mumbai- 400071.
Tel- 25292976 |9987803315|9820969775|9866692775|7738932807
Email: newromaniajobs@gmail.com
RECRUITMENT FOR POLAND – SHORTLISTING IN PROGRESS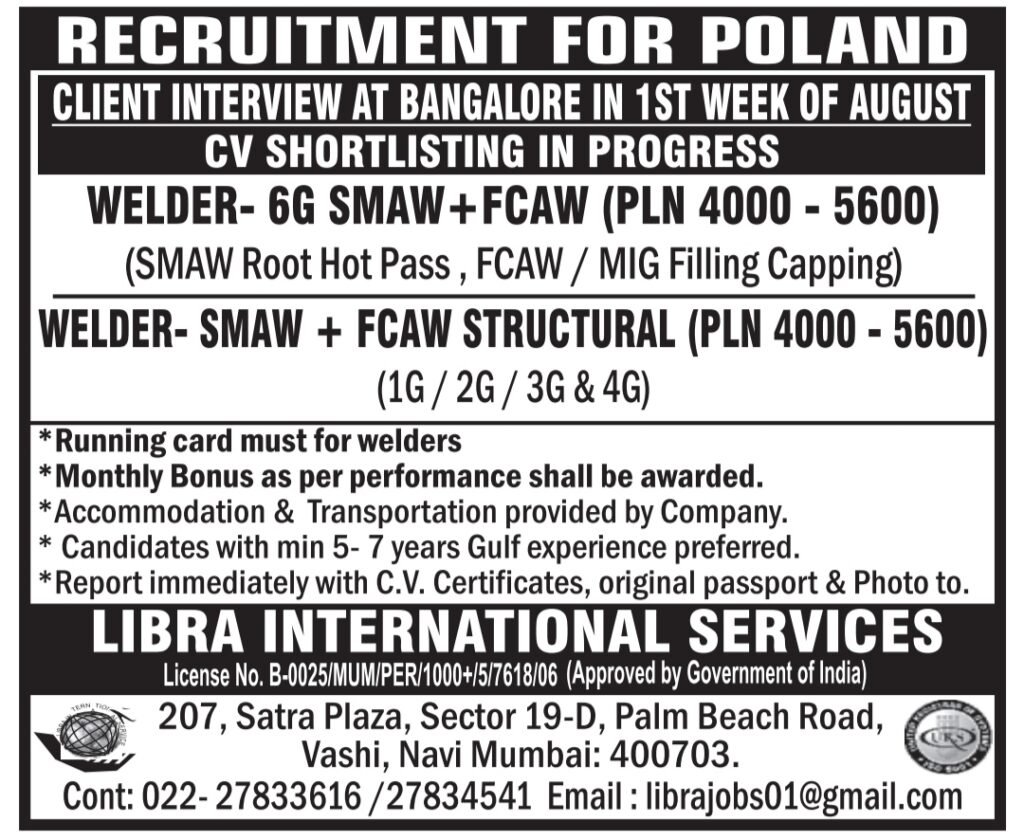 CLIENT INTERVIEW AT BANGALORE IN 1ST WEEK OF AUGUST
CV SHORTLISTING IN PROGRESS

✓WELDER-6G SMAW+FCAW (PLN 4000- 5600) (SMAW Root Hot Pass, FCAW/ MIG Filling Capping)

✓WELDER- SMAW+ FCAW STRUCTURAL (PLN 4000-5600) (1G/2G/3G&46)

*Running card must for welders

*Monthly Bonus as per performance shall be awarded.
*Accommodation & Transportation provided by Company.

*Candidates with min 5- 7 years Gulf experience preferred.

*Report immediately with C.V. Certificates, original passport & Photo to.

LIBRA INTERNATIONAL SERVICES
License No.B-025/MUMIPER/1000+/5/7618/06 (Aproved by Government of India)

207, Satra Plaza, Sector 19-D, Palm Beach Road, Vashi, Navi Mumbai: 400703.

Cont: 022-27833616/27834541
Email: librajobs01@gmail.com
URGENTLY REQUIRED FOR CONSTRUCTION PROJECT FOR POLAND
SHORTLISTING IN PROGRESS
SHORTLISTING INTERVIEWS WILL BE HELD BETWEEN

10AM TO 5PM (MON-SAT)
Interested Candidates visit the offices for walk in interviews along with Original Documents, Bio Data & Passport.

✓BLOCK MASON

Minimum 10 Years Gulf Experience Required

ATTRACTIVE SALARIES+ FREE FOOD, ACCOMMODATION & TRANSPORTATION
ASIAPOWER OVERSEAS EMPLOYMENT SERVICES

215-217, BEZZOLA COMMERCIAL COMPLEX, OPP SUMAN NAGAR, SION TROMBAY ROAD, CHEMBUR