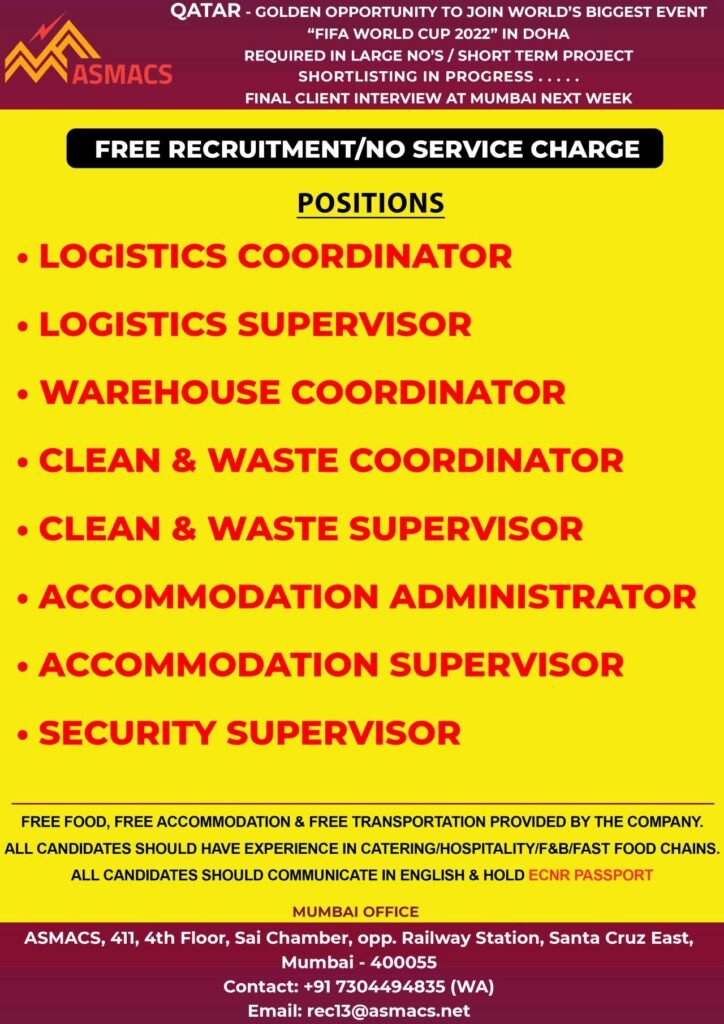 HIRING FOR QATAR FIFA WORLD CUP FOR FREE
QATAR GOLDEN OPPORTUNITY TO JOIN WORLD'S BIGGEST EVENT

"FIFA WORLD CUP 2022" IN DOHA

REQUIRED IN LARGE NO'S/ SHORT TERM PROJECT

SHORTLISTING IN PROGRESS…

FINAL CLIENT INTERVIEW AT MUMBAI NEXT WEEK

FREE RECRUITMENT/NO SERVICE CHARGE
JOB POSITIONS FOR APPLY
✓LOGISTICS COORDINATOR
✓LOGISTICS SUPERVISOR
✓WAREHOUSE COORDINATOR
✓CLEAN & WASTE COORDINATOR
✓CLEAN& WASTE SUPERVISOR
✓ACCOMMODATION ADMINISTRATOR
✓ACCOMMODATION SUPERVISOR
✓SECURITY SUPERVISOR
JOBS POSITIONS FOR QATAR
✓CASHIER
✓HAWKER
✓SALESMAN/SALES ASSISTANT
✓CONCESSION/OPERATION COORDINATOR
✓CONCESSION/OPERATION LEVEI SUPERVISOR
✓CONCESSION/OPERATION TEAM LEADER
✓HAWKER/SALES CoORDINATOR
✓HAWKER HUB SUPERVISOR
✓HAWKER/SALES SUPERVISOR
✓PRODUCTION COORDINATOR (FOOD & BEVERAGE)
✓OPERATIONS COORDINATOR
✓FOOD PACKING SUPERVIsOR
✓FOOD DISPATCH SUPERVISOR
✓CREW/TEAM LEADER – (FOOD & BEVERAGE)
✓SOUS CHEF
✓CHEF DE- PARTIE
✓SAUCE COOK
✓SANDWICH MAKER
FREE FOOD, FREE ACCOMMODATION & FREE TRANSPORTATION PROVIDED BY THE COMPANY.

ALL CANDIDATES SHOULD HAVE EXPERIENCE IN CATERING HOSPITALITY F&B/FAST FOOD CHAINS.

ALL CANDIDATES SHOULD COMMUNICATE IN ENGLISH & HOLD ECNR PASSPORT

MUMBAI ASMACS OFFICE
411, 4th Floor, Sai Chamber, opp. Railway Station, Santa Cruz East, Mumbai- 400055

Contact:+91 7304494835 (WA)

Email: rec13@asmacs.net
FREE RECRUITMENT QATAR – Urgently Required For a Leading FIVE STAR HOTEL
JOB POSITIONS FOR QATAR
SHORTLISTING INTERVIEW IN PROGRESS

5 STAR HOTEL INDUSTRY EXPERIENCE IS MANDATORY FOR ALL CATEGORIES
✓HVAC Technician
✓Room Technician
✓Pool Technician
✓Kitchen technician
✓Painter
✓Security Supervisor
✓CCTV Operator
✓Chef de Partie
✓Demi Chef de Partie
✓Guest Experience Supervisor
✓Cabana Supervisor
✓Cabana Host/ Guest
✓Commis
✓Relations Host – WP
✓Commis I
✓Stewarding Supervisor
✓Steward
✓F&B Supervisor
✓Bartender/Barista
✓Plumber
✓Guest Service Associate-
✓Carpenter
✓Laundry Supervisor
✓Laundry Attendant
✓Tailor
✓Waterpark Operations Supervisor
✓Lifeguard- Shallow
✓Merchandise Associate
✓Hostess
✓Spa Supervisor
✓Spa Trainer
✓Spa Therapist
✓Spa Receptionist/ Agent
✓Spa Attendant
✓Kids Club Supervisor
✓Kids Club Attendant
✓Waiter
✓F&B Attendant
✓Laundry Supervisor
✓Bartender
✓Speciality Waiter
✓Head Hostess
✓Laundry Attendant
✓Entertainers
✓Order Taker
✓Receptionist
✓Guest Relation Agent
✓Butler
✓Entertainment Tailor
✓Stage Technician
✓AV Supervisor
✓Fitness Instruction
✓Sports Academy Attendant AV Technician
✓Wellness Instructor
✓AV Supervisor
✓AV Technician
✓Health & Safety Supervisor
✓Engineering Supervisor
✓Waterpark Operations Coordinator
✓Concierge
✓Business Centre Agent
✓Bell/Luggage Attendant
✓Door Attendant
✓Receiving Clerk
✓Storekeeper
✓Landscaping Supervisor
✓Buggy Driver
✓Floor Supervisor
✓Housekeeping Coordinator
✓Room Attendant
✓Public Area Attendant
✓HVAC Technician
✓Ride Technician
✓Kitchen Technician
✓Carpenter
✓Gardeners
✓Revenue Analyst
✓Attractions Operations Supervisor
✓Attraction Attendant
✓Communications Control Supervisor
✓Communications Control Coordinator
✓Beach Attendent
✓Engineering Storekeeper
✓Aquatics Technician
✓Marketing Coordinator
✓Security Supervisor- CCTV
✓Engineering Supervisor
✓Landscaping Supervisor
✓Electrician
✓Mechanic Technician

Interested candidates visit our office for walk in interview along with cv original documents & passport.

EXCELLENT SALARY+PERKS

Kindly Submit Your Bio Data & Documents On The Link Provided!

All above candidates should have qualified in respective discipline with minimum 5+ years of experience in Five Star Hotel. Well-versed in English Communication. Candidates age Between 22-40 year old.
ASIAPOWER OVERSEAS EMPLOYMENT SERVICES

MUMBAI OFFICE: 206, BEZZOLA COMMERCIAL COMPLEX, OPP SUMAN NAGAR, SION TROMBAY ROAD CHEMBUR MUMBAI 71

KOCHI OFFICE: JOMER ARCADE, 3RD FLOOR, CHITTOOR ROAD, OPP. GOVT. GIRLS' HIGH SCHOOL, NEAR SOUTH METRO STATION, ERNAKULAM, KERALLA

DELHI OFFICE: BUILDING NO.9, 2ND FLOOR, MAIN ROAD SANT NAGAR, EAST OF KAILASH, ABOVE DHABA 61

CHENNAI OFFICE: 28 AARTI ARCADE, 86, DR.RADHAKRISHNAN ROAD, MYALAPORE, CHENNAI -600 004.
REQUIREMENT FOR SAUDI ARABIA FOR MINISTRY OF HEALTH MAINTENANCE PROJECT
JOB POSITIONS AVAILABLE APPLY NOW
CLIENT INTERVIEW ON 20TH JULY AT OUR MUMBAI OFFICE

✓GENERATOR MECHANIC TECHNICIANS
✓GENERATOR ELECTRICAL TECHNICIANS
✓MEDICAL GAS TECHNICIANS
✓DESALINATION PLANT TECHNICIANS
✓SEWAGE PLANT TECHNICIANS
✓ELECTRONIC TECHNICIANS
✓FIRE EXTINGUISHING EQUIPMENT TECHNICIANS
✓TELEPHONE NETWORK TECHNICIANS
✓WASHING EQUIPMENT TECHNICIANS
✓HVAC TECHNICIANS
✓PUMP TECHNICIANSS
✓PHOTOCOPY TECHNICIANS
✓ELECTRICITY TECHNICIANS
✓CENTRAL NETWORK TECHNICIANS
✓HOME APPLIANCE TECHNICIANs

MUST HAVE 3 YEARS EXP IN FACILITY MAINTENANCE PROJECT MUST HAVE 2 YRS ITI OR 3YRS DIPLOMA
RK TRAVEL SERVICES
Kanakia Zillion, H-Wing 3rd Floor, Office No. 334, LBS Marg, CST Road Junction, BKC Annexe, Kurla (West), Mumbai – 70.

Contact: 91373 14988 EMAIL: rktscv001@gmail.com

Lice No B-0102/MUM/PER/1000+/2/3/4a/5701/2001