JOB CATEGORY LIST
Gulf Exp. is must. Offshore Experience Preferred CVs to be sent in word format only along with Education & Experience
Certificates. Sr. categories should have Experience in Qil & Gas.
Civil Supervisors/ Coordinators: 7 yrs, B.E civil with UAE Driving Lic.
Civil QC Inspectors: B.E Civil, 7 Yrs with UAE Driving Lic
Quantity Surveyors (Civil): BE. Civil, Valid Driving Lic.
Civil Foreman: Diploma Civil
Civil Draftsman: Diploma Civil
Plumbing Supervisor / Foreman: Diploma in Civil
Wall Painting Foreman: Min. HSC
Offshore HSE Officers: With UAE Driving Lic.
Safety Technicians Technical Clerks Storekeepers
PTW Holder/ Coordinator
Mason
Wall Painters
Furniture Carpenter:
Furniture Polishers
Civil Construction Assistant
Plumbers – ITI
Steel Fixers
Drivers: Heavy/Light/ Bobcat/Wheel Loader
Signboard Writer Swimming Pool Operator
Interested Candidates Send CV along with Education & Experience Certificates At
Email I'd:resume@jmmehta.com


FOR MORE JOBS REGISTER WITH US ON
URGENTLY REQUIRED FOR A LEADING MULTINATIONAL COMPANY IN UAE & KSA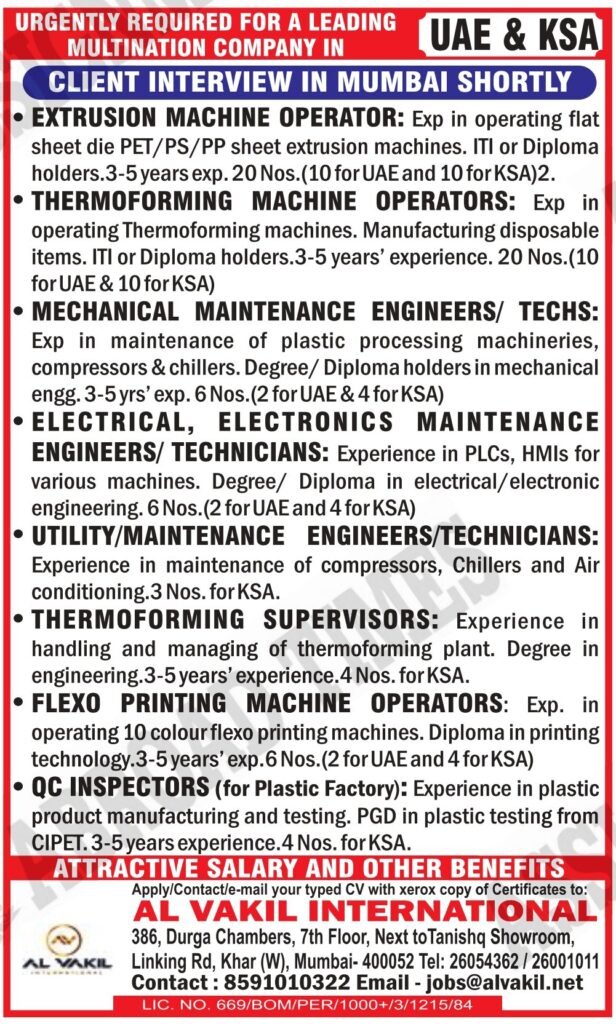 CLIENT INTERVIEW IN MUMBAI SHORTLY FOR BELOW POSITIONS
✓EXTRUSION MACHINE OPERATOR: Exp in operating flat sheet die PET/PS/PP sheet extrusion machines. ITl or Diploma
holders.3-5 years exp. 20 Nos.(10 for UAE and 10 for KSA)2.

✓THERMOFORMING MACHINE OPERATORS: Exp in operating Thermoforming machines. Manufacturing disposable items. ITI or Diploma holders.3-5 years' experience. 20 Nos.(10 for UAE&10 for KSA)

✓MECHANICAL MAINTENANCE ENGINEERS/ TECHS:Exp in maintenance of plastic processing machineries, compressors & chillers. Degree/ Diploma holders in mechanical engineering 3-5yrs' exp. 6 Nos.(2 for UAE &4 for KSA)

✓ELECTRICAL, ELECTRONICS MAINTENANCE ENGINEERS/ TECHNICIANS: Experience in PLCs, HMIs for various machines. Degree/ Diploma in electrical/electronic engineering. 6 Nos.(2 for UAE and 4 for KSA)

✓UTILITY/MAINTENANCE ENGINEERS/TECHNICIANS: Experience in maintenance of compressors, Chillers and Air conditioning.3 Nos. for KSA.

THERMOFORMING SUPERVISORS: Experience in handling and managing of thermoforming plant. Degree in engineering.3-5 years' experience.4 Nos. for KSA.

FLEXO PRINTING MACHINE OPERATORS: Exp. in operating 10 colourflexo printing machines. Diploma in printing technology.3-5 years' exp.6 Nos.(2 for UAE and 4 for KSA)

QC INSPECTORS (for Plastic Factory): Experience in plastic product manufacturing and testing. PGD in plastic testing from CIPET.3-5 years experience.4 Nos. for KSA.
HOW TO APPLY FOR ABOVE JOB POSITIONS?
Interested Candidates Can Directly Visit To The Consultancy Or Send Your CV and Certificates On
E-mail:- jobs@alvakil.net