REQUIREMENT FOR LEADING ENGINEERING COMPANY IN POLAND FOR BELOW POSITIONS
✓HR ASSISTANT MANAGER
Manage the recruitment and resourcing function More than 5 years of experience in HR position Bachelor degree in related field Fluent in English

✓GENERAL AFFAIRS ASSISTANT MANAGER
Responsible for supporting to administer of overall General affairs job in Job-site More than 5 years of experience in G/A position Bachelor degree in related field Fluent in English

✓IT ASSISTANT MANAGER
Manage the IT system on the Job-site More than 5 years of experience in IT position Bachelor degree in related field Fluent in English

Responsibilities

HR/GA/IT Assistant Manager shall be
key responsible person to assist. Support Administration Manager to operate overall management of administrative works for Hyundai construction project. The main fields which assist Manager
will handle are overall works of human resource administration General affairs/IT of job site.
REQUIREMENT FOR A LEADING
ENGINEERING & CONSTRUCTION COMPANY, IRAQ
JOB POSITION CATEGORY LIST
Manlift Operator
PTW Holder
Scaffolding Inspector
Spoolgen/CAD
Electrical Fitter
Electrical Terminator
Lifting Engineer
Mechanical Forman
Fireproofing Supervisor
Plasterer
Sprayer Worker
HVAC Fitter
HVAC Foreman
HVAC Supervisor
Instrument Calibrator
Instrument Fitter
Instrument Terminator
Fabricator Forman
Insulation Fabricator
Insulation Supervisor
Tinsmith Foreman
Blaster
GRE (Laminator)
GTAW+SMAW Welder (S.S)
Company Will Provide Food, Accommodation and Transportation
REQUIREMENT FOR A LEADING MNC COMPANY IN SAUDI ARABIA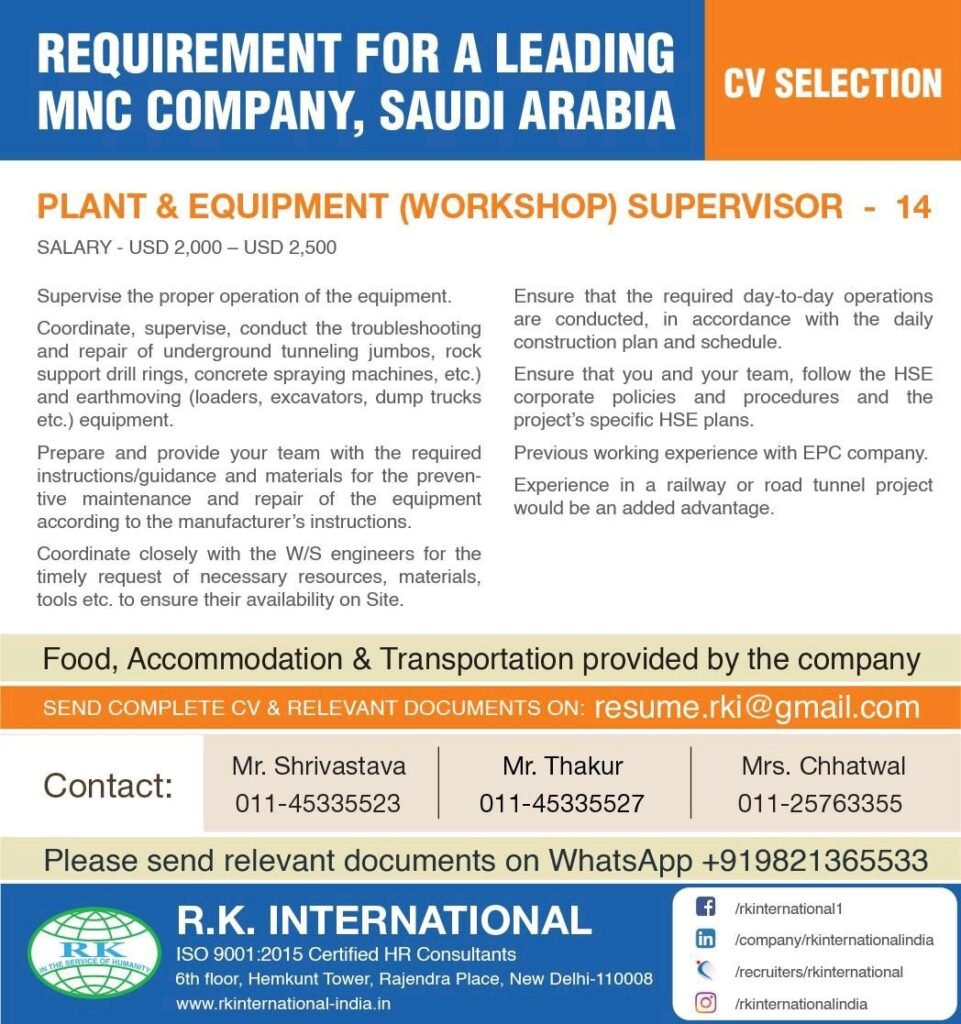 JOB CATEGORY
✓PLANT &EQUIPMENT (WORKSHOP) SUPERVISOR

SALARY USD 2,000-USD 2,500

Ensure that the required day-to-day operations are conducted, in accordance with the daily construction plan and schedule. Supervise the proper operation of the equipment Coordinate, supervise, conduct the troubleshooting and repair of underground tunneling jumbos, rock support drill rings, concrete spraying machines, etc.) and earthmoving (loaders, excavators, dump trucks etc.) equipment. Ensure that you and your team, follow the HSE corporate policies and procedures and the project's specific HSE plans. Prepare and provide your team with the required instructions/guidance and materials for the preven-tive maintenance and repair of the equipment according to the manufacturer's instructions.

Previous working experience with EPC company. Experience in a railway or road tunnel project would be an added advantage. Coordinate closely with the W/S engineers for the timely request of necessary resources, materials, tools etc. to ensure their availability on Site.
HOW TO APPLY FOR ALL ABOVE JOB VACANCIES ?
INTERESTED CANDIDATES SEND COMPLETE CV & RELEVANT DOCUMENTS ON: resume.rki@gmail.com

Contact On Given Details:

Mr. Shrivastava
011-45335523

Mr. Thakur
011-45335527

Mrs. Chhatwal
011-25763355