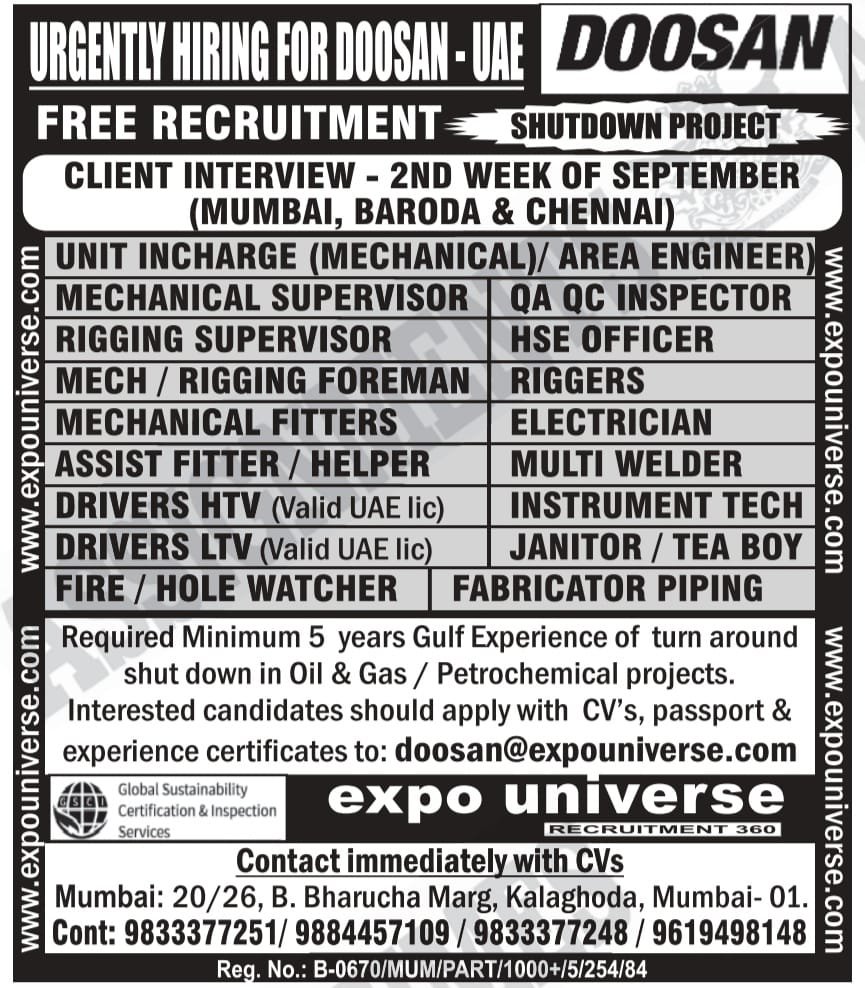 JOBS CATAGORY OPENING LIST FOR UAE
▪️UNIT INCHARGE(MECHANICAL)/AREA ENGINEER
▪️MECHANICAL SUPERVISOR
▪️QA QC INSPECTOR
▪️HSE OFFICER
▪️RIGGING SUPERVISORS
▪️MECH/ RIGGING FOREMAN

▪️RIGGERS
▪️MECHANICAL FITTERS
▪️ASSIST FITTER/HELPER
▪️ELECTRICIAN
▪️MULTI WELDER
▪️DRIVERSHTV (Valid UAE lic)
▪️INSTRUMENT TECH
▪️DRIVERS LTV (Valid UAE lic)
▪️JANITOR/TEA BOY
▪️FIRE/ HOLE WATCHER
▪️FABRICATOR PIPING
Required Minimum 5 years Gulf Experience of turn around shut down in Oil & Gas/ Petrochemical projects.
FREE RECRUITMENT- SHUTDOWN PROJECT
CLIENT INTERVIEW- 2ND WEEK OF SEPTEMBER (MUMBAI, BARODA & CHENNAI)
INTERESTED CANDIDATES SHOULD APPLY WITH CV'S, PASSPORT & EXPERIENCE CERTIFICATES TO:Doosan@expouniverse.com
For Apply Contact immediately with CV.
EXPO UNIVERSE RECRUITMENT 360
Mumbai: 20/26, B. Bharucha Marg, Kalaghoda, Mumbai- 01.

CONTACT:9833377251/9884457109/ 9833377248 /9619498148