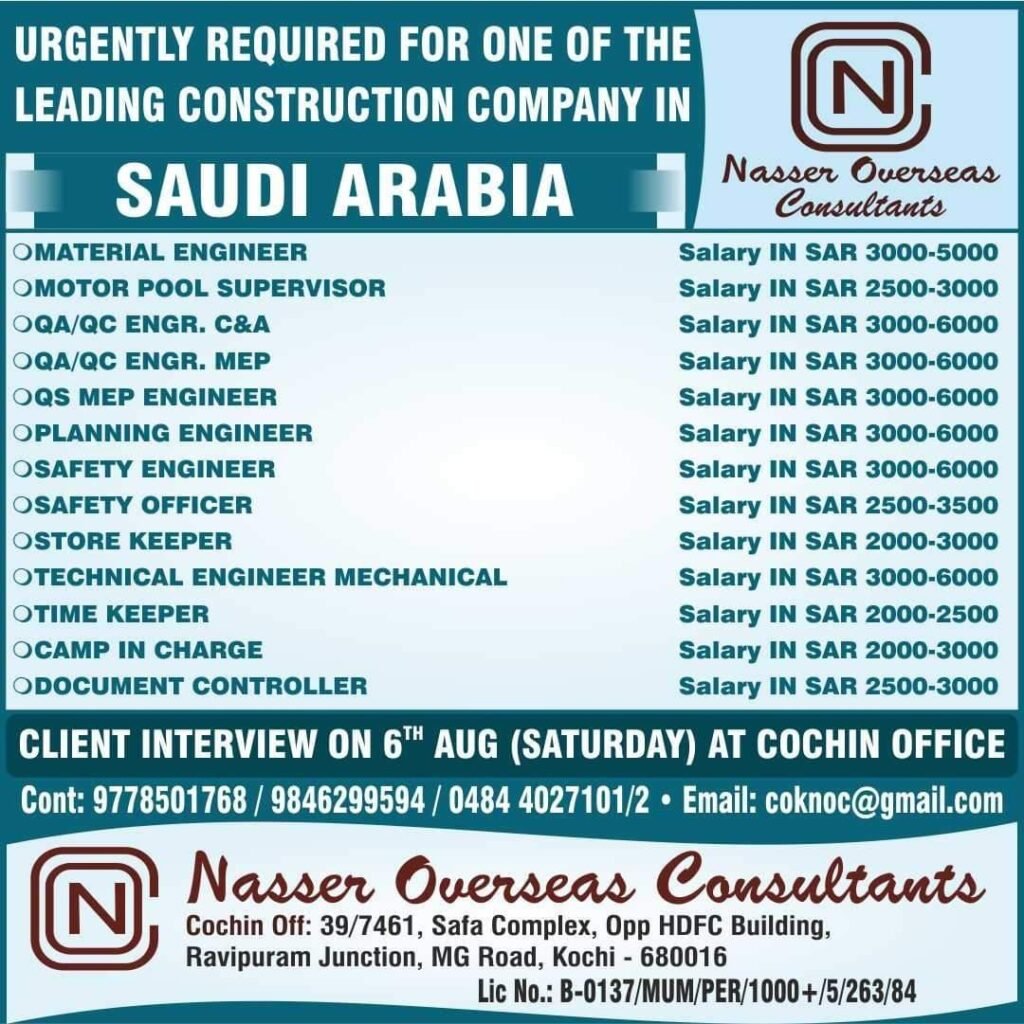 URGENTLY REQUIRED FOR ONE OF THE LEADING CONSTRUCTION COMPANY IN SAUDI ARABIA

✓MATERIAL ENGINEER
Salary IN SAR 3000-5000

✓MOTOR POOL SUPERVISOR
Salary IN SAR 2500-3000

✓QA/QC ENGR. C&A
Salary IN SAR 3000-6000

✓QA/QC ENGR. MEP
Salary IN SAR 3000-6000

✓QS MEP ENGINEER
Salary IN SAR 3000-6000

✓PLANNING ENGINEER
Salary IN SAR 3000-6000

✓SAFETY ENGINEER
Salary IN SAR 3000-6000

✓SAFETY OFFICER
Salary IN SAR 2500-3500

✓STORE KEEPER
Salary IN SAR 2000-3000

✓TECHNICAL ENGINEER MECHANICAL
Salary IN SAR 3000-6000

✓TIME KEEPER
Salary IN SAR 2000-2500

✓CAMP IN CHARGE
Salary IN SAR 2000-3000

✓DOCUMENT CONTROLLER
Salary IN SAR 2500-3000

CLIENT INTERVIEW ON 6″ AUG (SATURDAY) AT COCHIN OFFICE

Cont: 9778501768/9846299594/0484 4027101/2 Email: coknoc@gmail.com

Nasser Overseas Consultants

Cochin Off: 39/7461, Safa Complex, Opp HDFC Building, Ravipuram Junction, MG Road, Kochi – 680016

Lic No.: B-0137/MUM/PER/1000+/5/263/84
URGENTLY REQUIRED FOR ONE OF OUR REPUTED COMPANY IN QATAR
✓TELEPHONE RECEPTIONIST
Minimum 5 years of experience as Telephone Receptionist in reputed organizations – Preferably with Gulf experienceand experience in Oil & Gas companies.

✓HOUSEKEEPING ASSISTANT
Minimum 3 years of experience in administrative and housekeeping preferably with Gulf Experience in Oil /Gas Sector.

✓MALE BOY/ CLERKS
All Candidates should have diploma/ Secondary School Certificate in any discipline, Able to read, write and speak English language and preferably Arabic. Age between 25 to 40 years. Candidate should have a valid Qatar Driving License.
ONE OF OUR REPUTED CLIENT IN SAUDI ARABIA REQUIRES FOR THEIR OIL & GAS CONSTRUCTION PROJECTS
SHORTLISTING IN PROGRESS FINAL INTERVIEW SHORTLY IN MUMBAI

✓SENIOR MECHANICAL ENGINEERS
Minimum 15+ Years experience in Oil& Gas Industries.

✓API INSPECTORS
Must have multiple API certification with AWS/C-SWIP certificate. Below certification is mandatory API 653, API 570, API 510, AWS/C-SWIP. Must have work experience in fabrication/repair of tanks, vessels, piping & welding.

✓PAINTING & WELDING INSPECTORS
Must have NACE/B-GAS certification+ AWS/CSWIP certification. Must have experience in blasting& painting inspection requirements+ knowledge in welding requirements.

✓ELECTRICAL & INSTRUMENTATION ENGINEERS
Works in substation, marshalling racks, cabling (power,signal,control).
instrumentation, tubing. Must have knowledge in project and international standards.

✓QC ENGINEERS ELECTRICAL& INSTRUMENTATION
Knowledge in Project specification, documentation, inspection of all
E&I works related to oil and gas field.

✓MECHANICAL SUPERVISORS- BOLT TORQUING
Must posses valid or recently expired TE 10 & TE-19 certification

✓FABRICATORS (PIPE, STRUCTURAL)
Must be able to read drawings. Must know to speak, write, and read English.

✓TIG&ARC WELDERS
Must have valid/recently expired 3rd part GCC welding cards for CS, SS, Aloy materials

All candidates should have B.E. B.TECH. /DIPLOMA ENGG.(MECHANICAL,E&I) WITH MINIMUM 5-10 YEARS OF GCC EXPERIENCE IN THEIR RELEVANT FIELD.
Suitable candidates please send your updated CV on given Email.

MUMBAI– cv@jobsitl.net abhishek@itlservice.net /022 43607777 /719

CHENNAI– itimds@itiservice.net /+914445030011

KOCHI– career1@itlservice.net /+917907699906

TRICHY– trichy(@itlservice.net /+919360193262 /+919746799953 O

INTERNATIONAL TRADE LINKS

REGD.NO: B0602/MUM/PART/1000+/5/2249/87

Queens mansion ,3rd floor 44 Amrit Keshav Nayak Marg. Behind Khadi Gramodyog, Fort, Mumbai – 400001.
REQUIREMENT FOR ITL HEAD OFFICE – MUMBAL
Recruitment industry experience preferred

✓HR MANAGER
AGE BELOW 35 YRS.
Graduation/ MBA with HR & Admin job, letter drafting/handling correspondence/good English /computer literate/ docs control/ Liason with Team &Management.
HR manager are responsible for planning and achieving organizational objectives.
Design Workplace Policies. Monitor Performance. Maintaining Work Culture.
Resolve Conflict.

✓RECEPTIONIST-Front Office Executive
AGE BELOW 30 YRS.
HSC with minimum 06 months experience
Greeting visitors. Maintain Requirements & interviews, short mail, make copies &
attend calls. Computer literate

[FEMALE/ MALE] SALARY NEGOTIABLE

Suitable candidates please send your updated CV, Educational, Experience cetificates In single PDF file on given Email. Short listed candidates will be called for final interview

Email I'd – nisha@itlservice.net | 022 43607732
URGENT VACANCY SUBMIT YOUR CV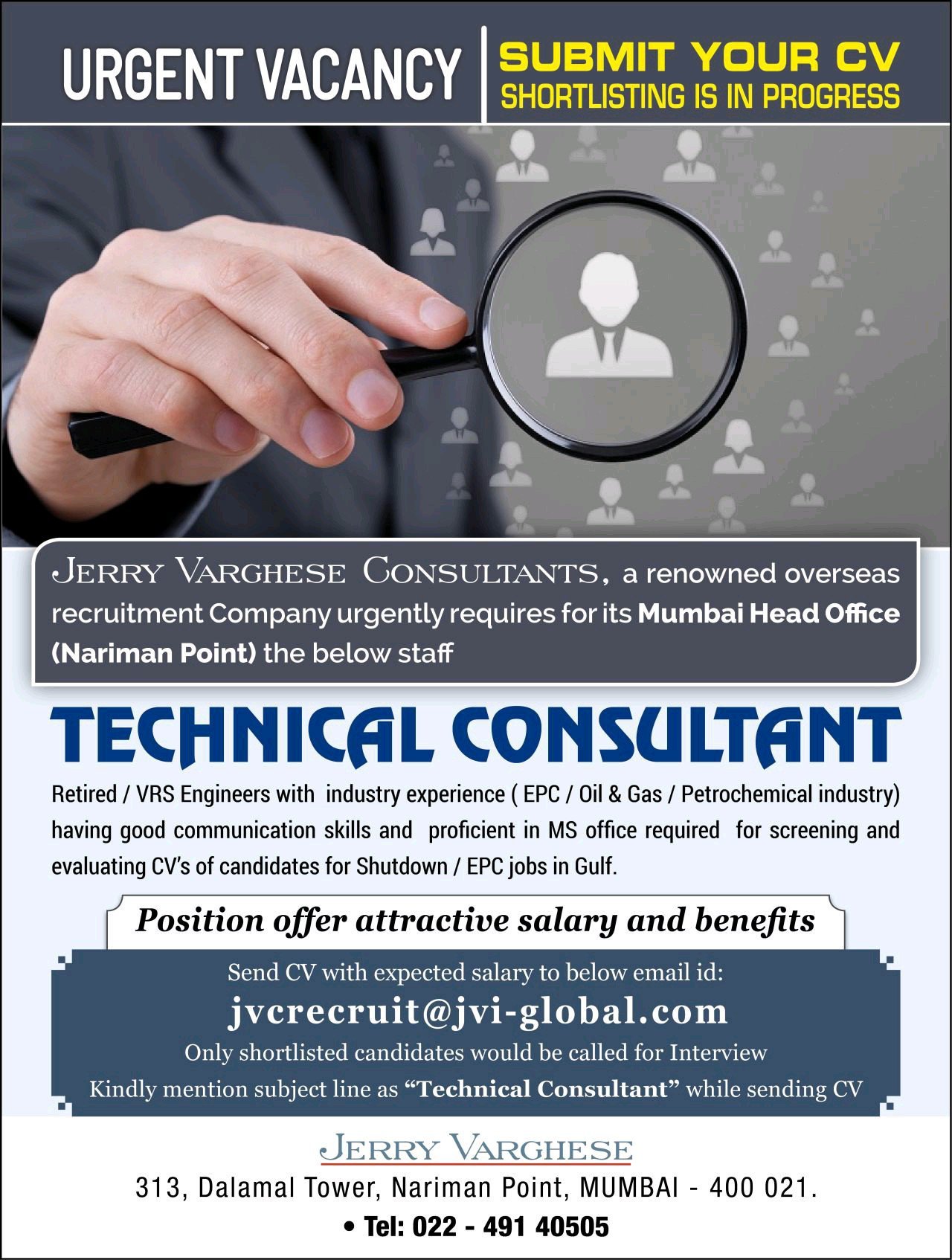 JERRY VARGHESE CONSULTANTS, a renowned overseas recruitment Company urgently requires for its Mumbai Head Office (Nariman Point) the below staff
SHORTLISTING IS IN PROGRESS

✓TECHNICAL CONSULTANT
Retired/VRS Engineers with industry experience (EPC/ Oil & Gas/Petrochemical industry) having good communication skills and proficient in MS office required for screening and evaluating CV's of candidates for Shutdown/EPC jobs in Gulf.

Position offer attractive salary and benefits

Send CV with expected salary to below email id:

jvcrecruit@jvi-global.com

Only shortlisted candidates would be called for Interview

JERRY VARGHESE
313, Dalamal Tower, Nariman Point, MUMBAI – 400 021.
Tel:022- 491 40505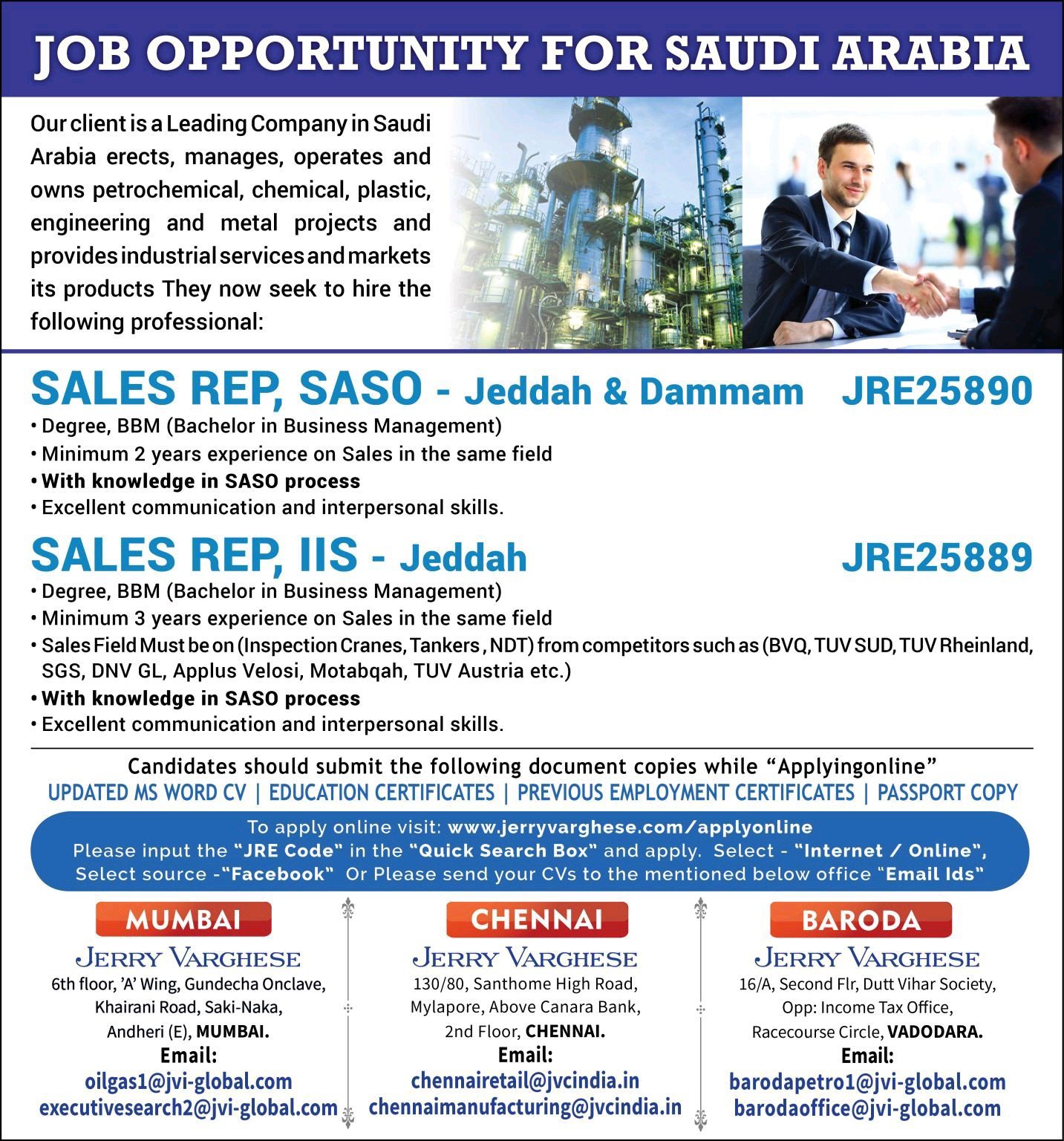 JOB OPPORTUNITY FOR SAUDI ARABIA

Our client is a Leading Company in Saudi
Arabia erects, manages, operates and
owns petrochemical, chemical, plastic, engineering and metal projects and
provides industrial services and markets
its products They now seek to hire the following professional

✓SALES REP, SASO – Jeddah & Dammam JRE25890
Degree, BBM (Bachelor in Business Management) Minimum 2 years experience on Sales in the same field With knowledge in SASO process
Excellent communication and interpersonal skills.

✓SALES REP, IIS Jeddah
JRE25889
Degree, BBM (Bachelor in Business Management) Minimum3 years experience on Sales in the same field Sales Field Must be on (inspection Cranes, Tankers, NDT) from competitors such as (BVQ,TUV SUD, TUV Rheinland, SGS, DNV GL, Applus Velosi, Motabqah, TUV Austria etc) With knowledge in SASO process

Excellent communication and interpersonal skills.

Candidates should submit the following document copies while "Applying online"

UPDATED MS WORD CV | EDUCATION CERTIFICATES| PREVIOUS EMPLOYMENT CERTIFICATES|PASSPORT COPY

To apply online Click Here
Please input the "JRE Code" in the "Quick Search Box" and apply. Select – "Internet / Online",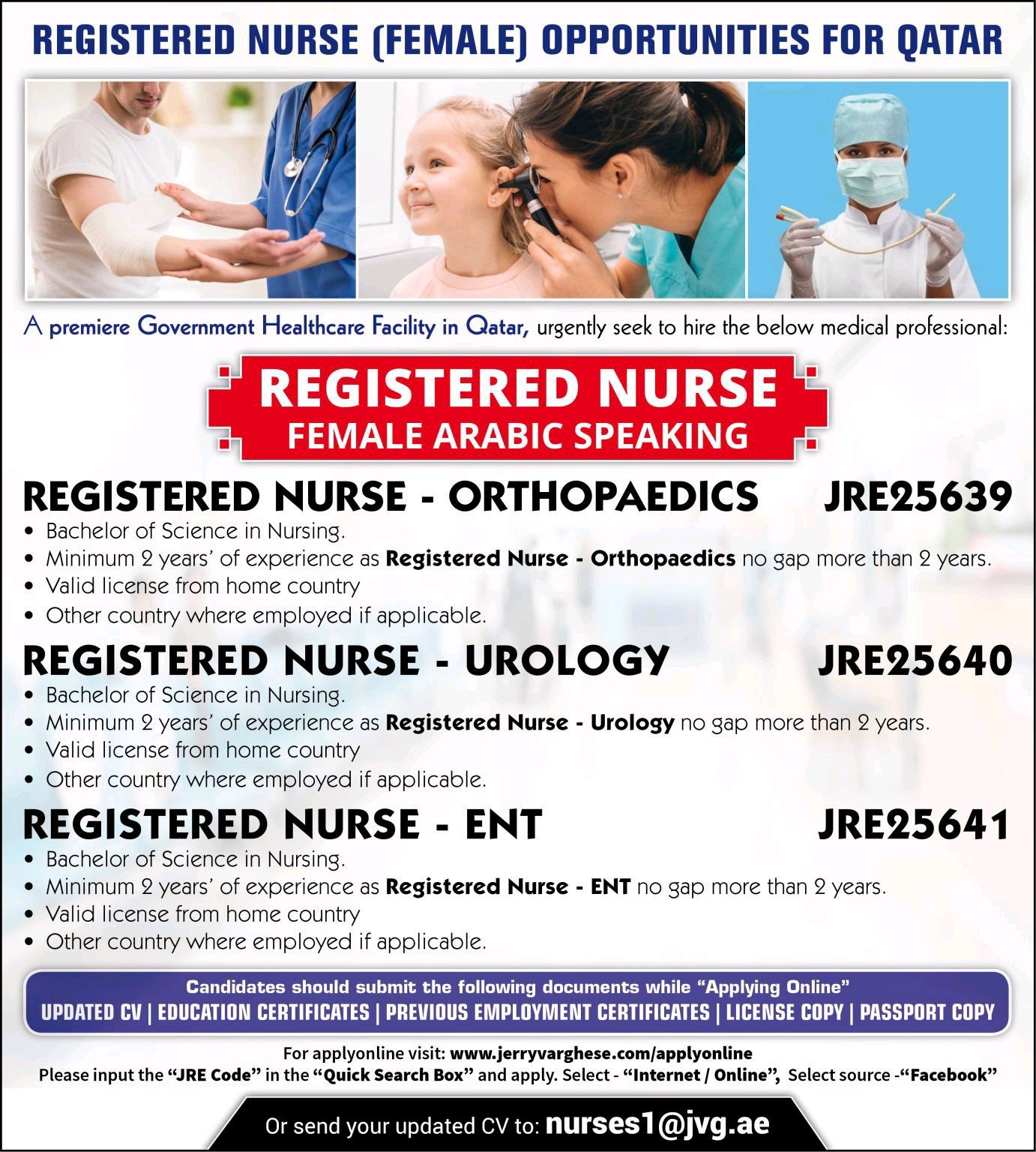 REGISTERED NURSE (FEMALE) OPPORTUNITIES FOR QATAR
A premiere Government Healthcare Facility in Qatar, urgently seek to hire the below medical professional:

✓REGISTERED NURSE – ORTHOPAEDICS
JRE25639
Bachelor of Science in Nursing.
Minimum 2 years' of experience as Registered Nurse Orthopaedics no gap more than 2 years. Valid license from home country Other country where employed if applicable.

✓REGISTERED NURSE UROLOGY
JRE25640
Bachelor of Science in Nursing
Minimum 2 years' of experience as Registered Nurse- Urology no gap more than 2 years. Valid license from home countr Other country where employed if applicable.

✓REGISTERED NURSE – ENT JRE25641
Bachelor of Science in Nursing.
Minimum 2 years' of experience as Registered Nurse – ENT no gap more than 2 years. Valid license from home country Other country where employed if applicable.

Candidates should submit the following documents while "Applyving Online"
UPDATED CU | EDUCATION CERTIFICATES| PREVIOUS EMPLOYMENT CERTIFICATES | LICENSE COPY | PASSPORT COPY

For Apply send your updated CV to: nurses1@jvg.ae