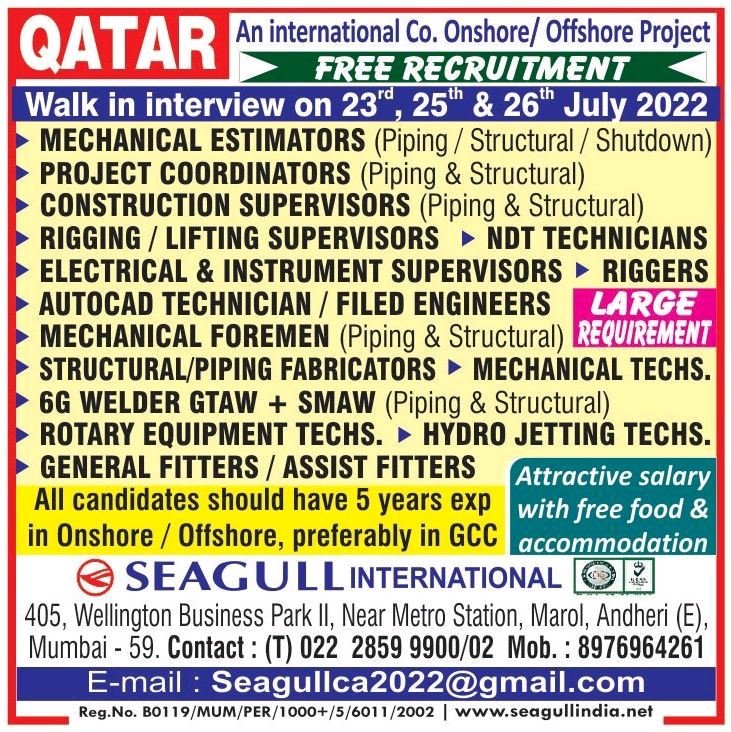 FREE RECRUITMENT – QATAR for An International Co. Onshore/ Ofshore Project
Walk in interview on 23″, 25″ & 26″ July 2022

✓MECHANICAL ESTIMATORS (Piping/ Structural/Shutdown)
✓PROJECT COORDINATORS (Piping &Structural)
✓CONSTRUCTION SUPERVISORS (Piping& Structural)
✓RIGGING/LIFTING SUPERVISORS
✓NDT TECHNICIANS
✓ELECTRICAL & INSTRUMENT SUPERVISORS
✓RIGGERS
✓AUTOCAD TECHNICIAN/FILED ENGINEERS
✓MECHANICAL FOREMEN (Piping & Structural)
✓STRUCTURAL/PIPING FABRICATORS ✓MECHANICAL TECHS.
✓6G WELDER GTAW+SMAW (Piping & Structural)
✓ROTARY EQUIPMENT TECHS.
✓HYDRO JETTING TECHS.
✓GENERAL FITTERS/ASSIST FITTERS

All candidates should have 5 years exp in Onshore/ Offshore, preferably

Attractive salary

SEAGULLINTERNATIONAL OH
405, Welington Business Park ll, Near Metro Station, Marol, Andheri (E),
Mumbai- 59. Contact: (T) 022 2859 9900/02 Mob.:8976964261
E-mail: Seagullca2022@gmail.com

Reg.No. BO119/MUM/PER/1000+/5/6011/2002
OMAN LONG-TERM PROJECT Opening for a Leading Oil & Gas Company
SHORTLISTING IN PROGRESS AT

AMBE INTERNATIONAL OFFICE, MUMBAI

WE HAVE THE OPENING EOR BELOW POSITIONS

✓KITCHEN EQUIPMENT SUPERVISOR
Must have 5+ years exp in Air Port Catering / Hotel industry. Diploma in Mechanical / Electrical /Electronics Should have the knowledge of Maintenance & repair of Kitchen and laundry equpment.

✓COLD ROOM SUPERVISOR
Must have 5+ years exp in Air Port Catering / Hotel industry. Diploma in Mechanical/ AC& Refrigeration Engineering Should have the kncwledge of Maintenance & repair af Cold room & refrigeration equipment

✓KITCHEN EQUIPMENT TECHNICIAN
Must have 5 years exp in Air Port Catering/Five Star Hotels Tin Mechanical/Electrical /Electronics. Maintenance and Repair of kitchen equpment ike Steam Boilers, Deep Fat Fryers, Bakery Equipment, Tiltine Bratt Pary Processine Equipment, Electric Overs, Expertise in repair of all types of Electric, Steam and Gas Kitchen Equipment.

✓LAUNDRY TECHNICIAN
Must have 5t years exp in Air Port Catering/Five Star Hotels ITI in Electrical or Electrorics or Mechanical. Maintenance and Repair af laundry equipment like Washer Extractor, Tumble Dryers Dry Cleaning Machine, Shirt Press Machine, Blanket Folder, Flat Work ironer, Packing Machine, Pant Topper, Uriity Press Machine.

✓MECHANICAL TECHNICIAN
Must have 5 years expin Food Process / Darly Industry. ITI in Mechanical Maintenance and Repair of mechanical equipment ike pallet conveyors, bin conveyor, mechanical hoist, purumpsmps. fan units, cydones, vacuum pipes and inlet waste units compactor machines, gravty flaw racks, mechankal hangers, Transit Trolies, control panes and programming

✓ELECTRONICS TECHNICIAN
Must have S+ years exp in Airport Maintenance job min Electronics.
Maintenance and Repar of PLCs Control Panels and Programming In-depth
Knowledge in the repairs af printed circuit board, Replacemers of Electronic
Components, Diagnose and Faut Findng in Electronic Circuit Board, Knawledge in
Programming.

All Candidates should have 5+ Years Gulf Exp in relevant field.

Please Email your CV, Vaccination Certificate, & Passport on

mechanical@indianpersonnel.com

Call On : +91 22 61431234

Ambe International An 10 9001 Ca.]
507 Shah & Nahar Industrial Estate,
Dr. E. Moses Road, Worli Naka, Mumbai – 400 018.
URGENTLY REQUIRED – SAUDI ARABIA FOR PETROCHEMICAL SHUTDOWN PROJECT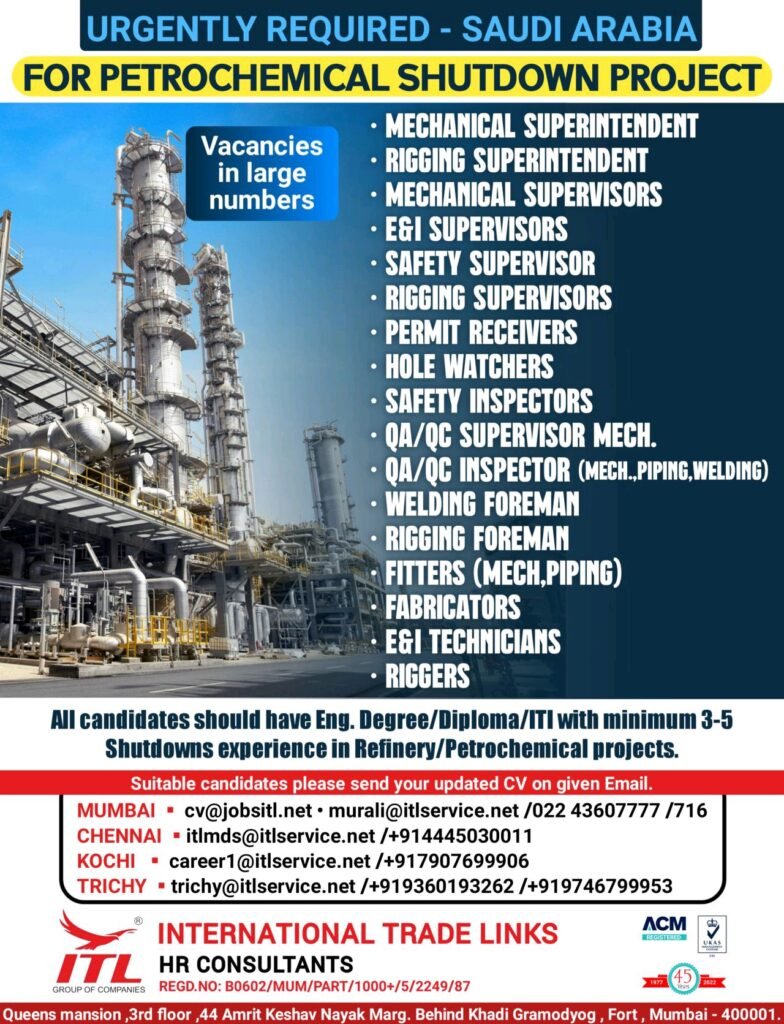 JOB POSITIONS OPENING
MECHANICAL SUPERINTENDENT
RIGGING SUPERINTENDENT
MECHANICAL SUPERVISORS
E&I SUPERVISORS
SAFETY SUPERVISOR
RIGGING SUPERVISORS
PERMIT RECEIVERS
HOLE WATCHERS
SAFETY IRSPECTORS
QA/QC SUPERVISOR MECH
QA/QC INSPECTOR (MECH.PIPING WELDING)
WELDING FOREMAN
RIGGING FOREMAN
FITTERS (MECH/PIPING)
FABRICATORS
EGI TECHNICIANS
RIGGERS
All candidates should have Eng. Degree/Diploma/ITl with minimum 3-5 Shutdowns experience in Refinery/Petrochemical projects.

Suitable candidates please send your updated CV on given Email Id

MUMBAI: cv@jobsitl.net murali@itlservice.net /022 43607777 /716

CHENNAI: itlmds@itlservice.net /+914445030011

KOCHI: career1@itlservice.net/4917907699906

TRICHY: trichy@itlservice.net/+919360193262 /+919746799953

INTERNATIONAL TRADE LINKS

REGD.NO: B0602/MUM/PART/1000+/5/2249/87

Queens mansion ,3rd floor 44 Amrit Keshav Nayak Marg. Behind Khadi Gramodyog, Fort, Mumbai- 400001
REQUIREMENT FOR A LEADING OPERATION & MAINTENANCE COMPANY IN UAE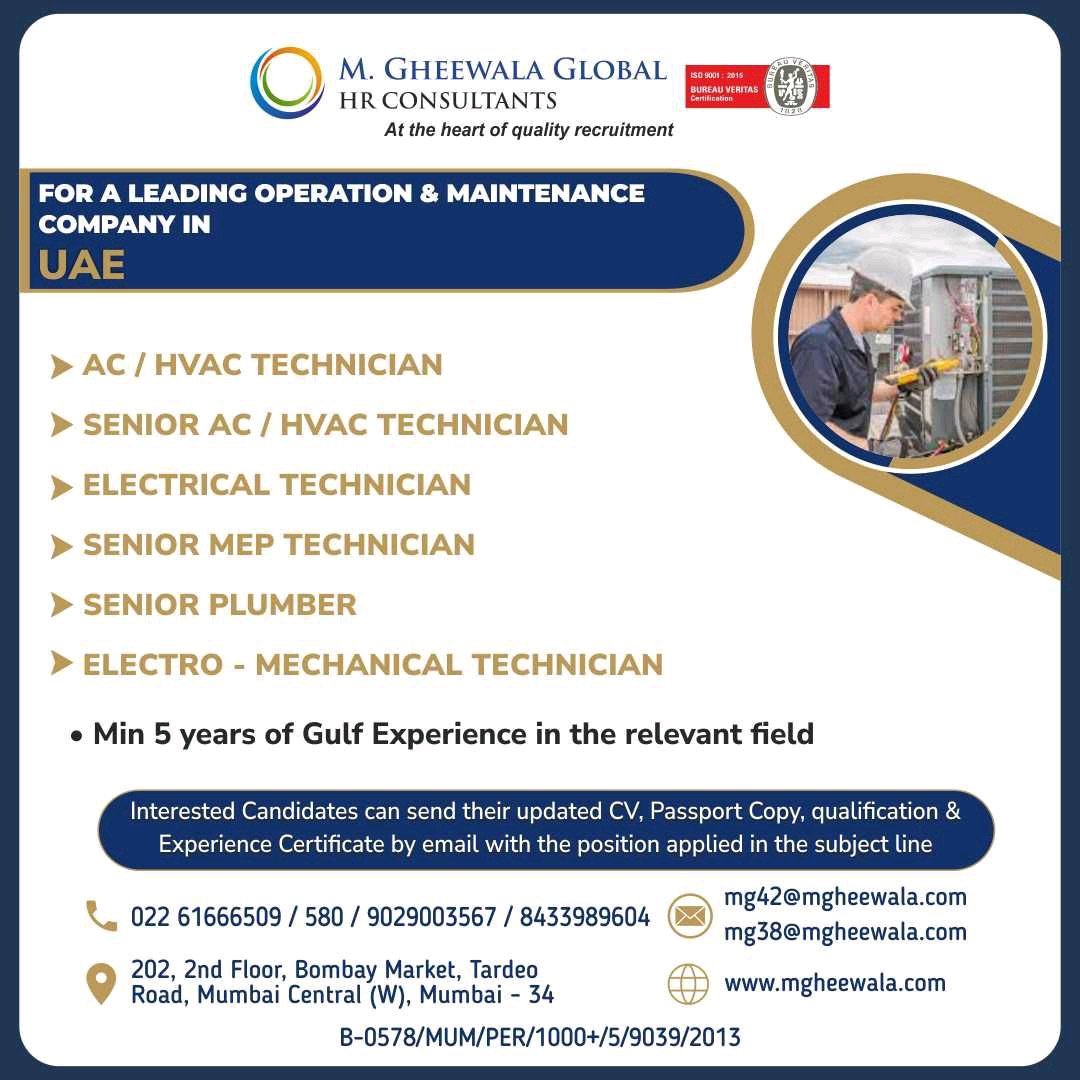 JOB POSITIONS OPENING
✓AC/HVAC TECHNICIAN
✓SENIOR AC/ HVAC TECHNICIAN
✓ELECTRICAL TECHNICIAN
✓SENIOR MEP TECHNICIAN
✓SENIOR PLUMBER
✓ELECTRO MECHANICAL TECHNICIAN
Min 5 years of Gulf Experience in the relevant field

Interested Candidates can send their updated CV, Passport Copy, qualification & Experience Certificate by email with the position applied in the subject line

mg42@mgheewala.com
mg38@mgheewala.com

022 61666509/580/ 9029003567 / 8433989604

202, 2nd Floor, Bombay Market, Tardeo
Road, Mumbai Central (W), Mumbai – 34

B-0578/MUM/PER/1000+/5/9039/2013
REQUIRED FOR SAUDI ARABIA HVAC PROJECT
FINAL CLIENT INTERVIEW 25/07/2022 AT ITL MUMBAI OFFICE
✓HVAC MAINTENANCE ENGINEERS
✓HVAC MAINTENANCE SUPERVISORS
✓DDC/CONTROL PANEL TECHNICIANS
✓HVAC MAINTENANCE TECHNICIANS
✓BTU and BMS TECHNICIANS
✓CHILLER MAINTENANCE TECHNICIANS
All candidates should have Degree/Diploma/lTI with Gulf experience ARAMCO experience preferred.
Suitable candidates please send your updated CV on given Email.
cv@jobsitl.net; murali@itlservice.net
022 43607777/716/719/732 /730