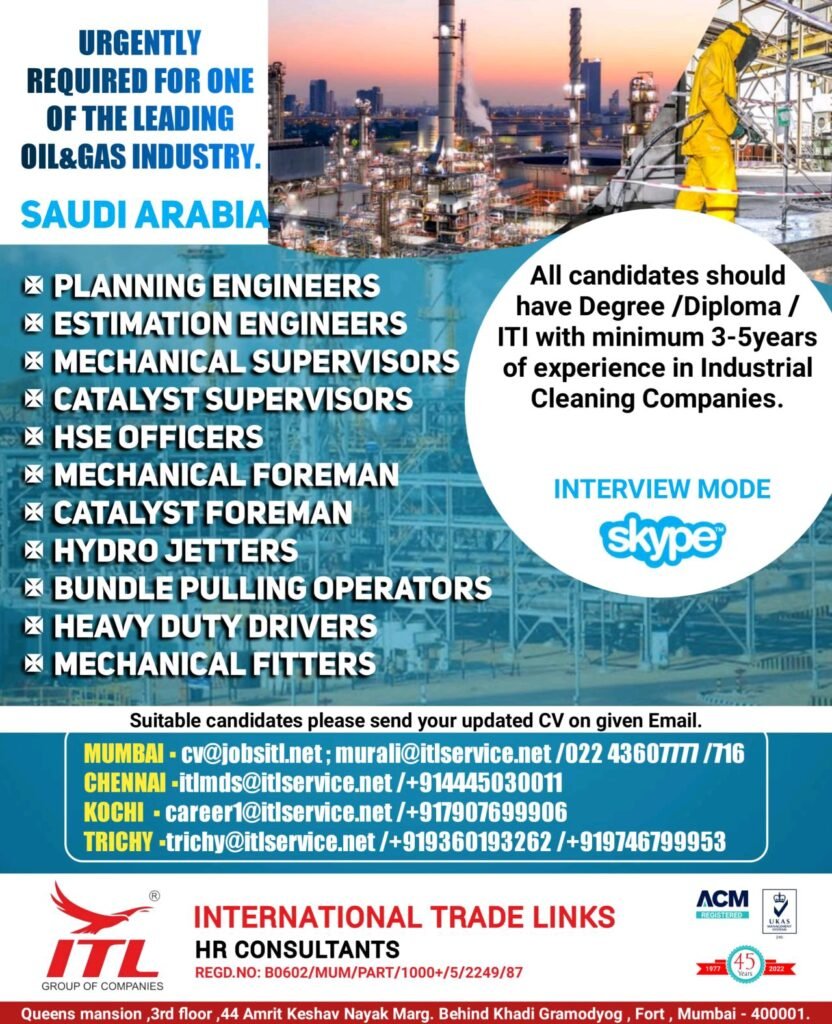 URGENTLY REQUIRED FOR ONE OF THE LEADING Oil & GAS INDUSTRY IN SAUDI ARABIA
✓PLANNING ENGINEERS
✓ESTIMATION ENGINEERS
✓MECHANICAL SUPERVISORS
✓CATALYST SUPERVISORS
✓HSE OFFICERS
✓MECHANICAL FOREMAN
✓CATALYST FOREMAN
✓HYDRO JETTERS
✓BUNDLE PULLING OPERATORS
✓HEAVY DUTY DRIVERS
✓MECHANICAL FITTERS

have Degree /Diploma/ITI with minimum 3-5years of experience in Industrial Cleaning Companies.

Suitable candidates please send your updated CV on given Email.

MUMBAI
cv@jobsit.net; murali@itlservice.net

CHENNAI
itlmds@itiservice.et/+914445030011

KOCHI careeri@itlservice.net/+917907699906

TRICHY
trichy@itseruice.met /+919360193262 /+919746799953

INTERNATIONAL TRADE LINKS

REGD.NO: BO602/MUM/PART/1000+/5/2249/87

Queens mansion ,3rd floor, 44 Amrit Keshav Nayak Marg. Behind Khadi Gramodyog, Fort, Mumbai – 400001.