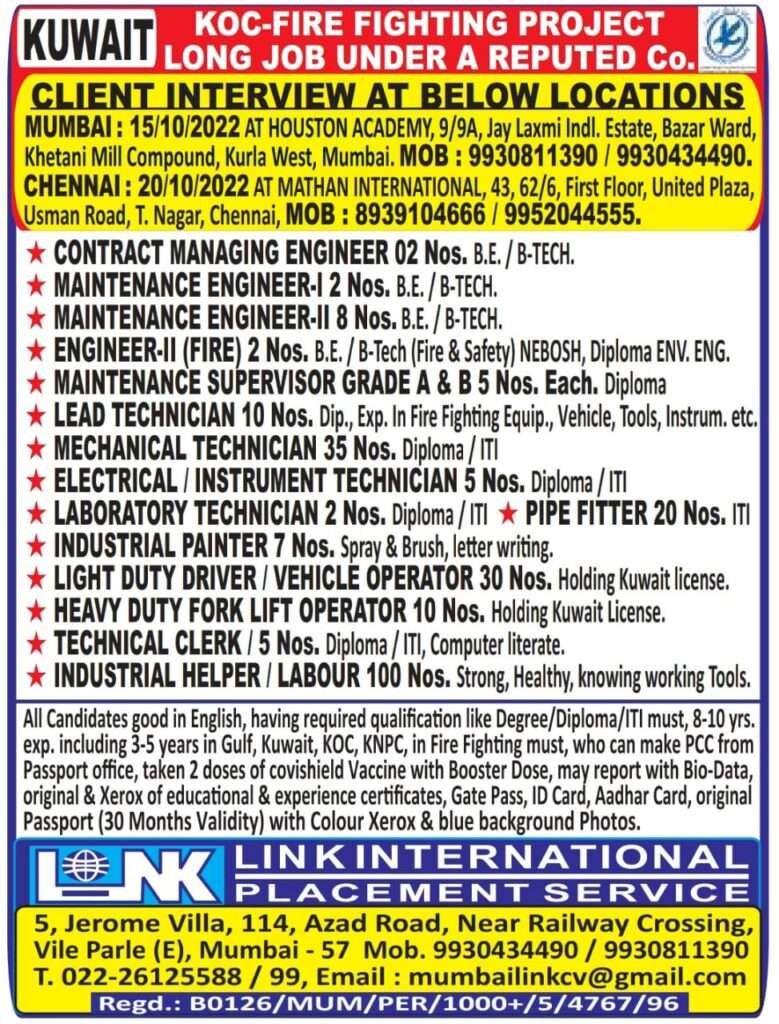 JOB'S CATEGORY OPENING LIST FOR KUWAIT
✅CONTRACT MANAGING ENGINEER 02 Nos. B.E./B-TECH.

✅MAINTENANCE ENGINEER 02 Nos. B.E. J B-TECH.

✅MAINTENANCE ENGINEER-II 8 Nos. B.E. /BTECH.

✅ENGINEER-I (FIRE) 2 Nos. B.E./B-Tech (Fire&Safety) NEBOSH, Diploma ENV. ENG.

✅MAINTENANCE SUPERVISOR GRADE A & B5 Nos. Each. Diploma

✅LEAD TECHNICIAN 10 Nos. Dip, Exp. In Fire Fighting Equip., Vehidle, Tols, Instrum. etc

✅MECHANICAL TECHNICIAN 35 Nos. Diploma/ITI

✅ELECTRICAL INSTRUMENT TECHNICIAN 5 Nos. Diploma / 1T1

✅LABORATORY TECHNICIAN 2 Nos. Diploma/ ITI

✅PIPE FITTER 20 Nos. ITI

✅INDUSTRIAL PAINTER 07 NoS. Spray & Brush, letter wirtnng

✅LIGHT DUTY DRIVER /VEHICLE OPERATOR 30 Nos. Holding Kuwait license.

✅HEAVY DUTY FORK LIFT OPERATOR 10 Nos. Holding Kuwait License.

✅TECHNICAL CLERK 15 Nos. Diploma/ITI, Computer literate.

✅INDUSTRIAL HELPER/LABOUR 100 Nos. Stong, Heathy knowing working Tols
All Candidates good in English, having required qualification like Degree/Diploma/ITI must,8-10 yrs. exp. including 3-5 years in Gulf, Kuwait, KOc, KNPC, in Fire Fighting must, who can make PCC from Passport office, taken 2 doses of covishield Vacine with Booster Dose, may report with Bio-Data, original & Xerox of educational & experience certificates, Gate Pas, ID Card, Aadhar Card, original Passport (30 Months Validity) with Colour Xerox & blue background Photos.
CLIENT INTERVIEW AT BELOW LOCATIONS
MUMBAI: 15/10/2022 AT HOUSTON ACADEMY, 9/9A, Jay Laxmi Indl. Estate, Bazar Ward,
Khetani Mill Compound, Kurla West, Mumbai. MOB : 9930811390/ 9930434490.
CHENNAI: 20/10/2022 AT MATHAN INTERNATIONAL, 43, 62/6, First Floor, United Plaza, Usman Road, I. Nagar, Chennai, MOB: 8939104666 /9952044555.
5, Jerome Villa, 114, Azad Road, Near Railway Crossing, Vile Parle (E), Mumbai – 57
Mob. 9930434490/9930811390
T. 022-26125588/ 99,
Email : mumbailinkcv@gmail.com