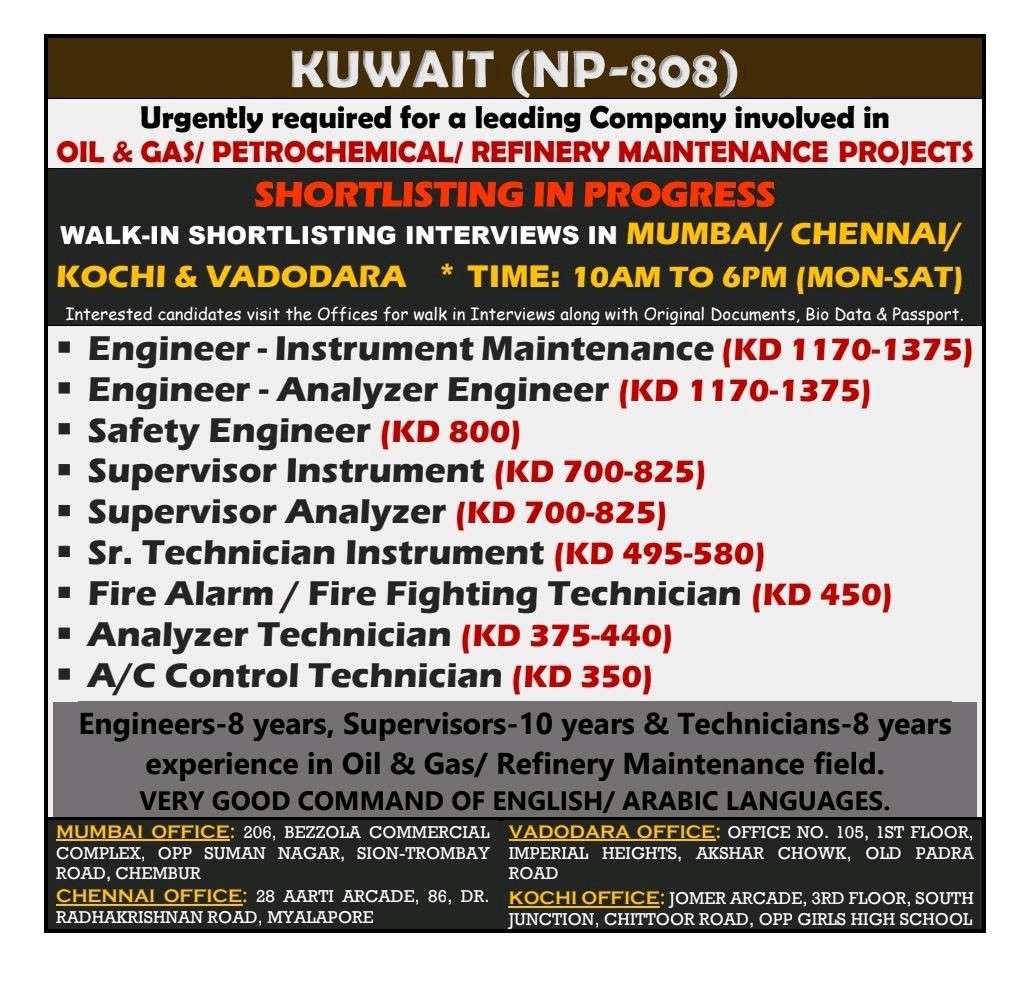 JOBS OPENING CATEGORY LIST AS BELOW ⬇️
Engineer – Instrument Maintenance (KD 1170-1375)
Engineer – Analyzer Engineer (KD 1170-1375)
Safety Engineer (KD 800)
Supervisor Instrument (KD 700-825)
Supervisor Analyzer (KD 700-825)
Sr. Technician Instrument (KD 495-580)
Fire Alarm/ Fire Fighting Technician (KD 450)
Analyzer Technician (KD 375-440)
A/C Control Technician (KD 350)
Engineers-8 years, Supervisors-10 years & Technicians-8 years experience in Oil & Gas/ Refinery Maintenance field.
HOW TO APPLY FOR ABOVE JOB OPENINGS?
Interested candidates visit the Offices for walk in Interviews along with Original Documents, Bio Data & Passport.
VERY GOOD COMMAND OF ENGLISH/ ARABIC LANGUAGES.

MUMBAI OFFICE: 206, BEZZOLA COMMERCIAL COMPLEX OPP SUMAN NAGAR, SION-TROMBAY CHEMBUR ROAD

VADODARA OFFICE: OFFICE NO. 105, 1ST FLOOR, IMPERIAL HEIGHTS, AKSHAR CHOWK, OLD PADRA ROAD

CHENNAI OFFICE: 28 AARTI ARCADE, 86, DR.
RADHAKRISHNAN ROAD, MYALAPORE

KOCHI OFFICE: JOMER ARCADE, 3RD FLOOR, SOUTH JUNCTION, CHITTOOR ROAD, OPP GIRLS HIGH SCHOOL