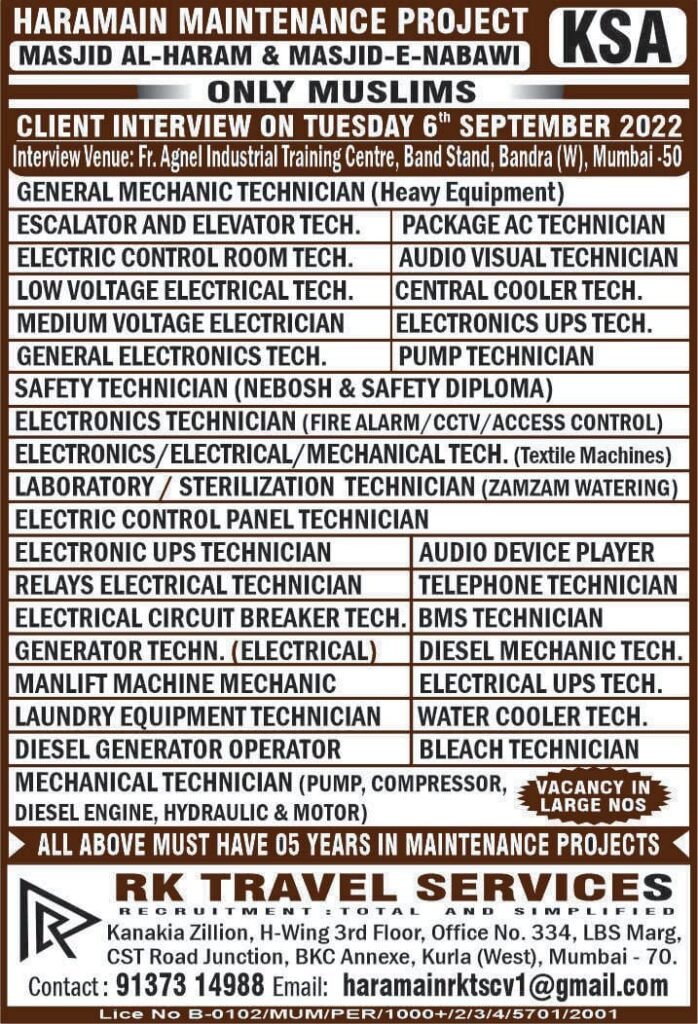 MASJID AL-HARAM & MASJID-E-NABAWI
ONLY MUSLIMS JOB CATEGORY OPENING LIST
▪️GENERAL MECHANIC TECHNICIAN (Heavy Equipment)
▪️ESCALATOR AND ELEVATOR TECH.
▪️PACKAGE ACTECHNICIAN TECH.
▪️LOW VOLTAGE ELECTRICAL TECH.
▪️ELECTRIC CONTROL ROOM TECH.
▪️MEDIUM VOLTAGE ELECTRICIAN

▪️ELECTRONICS UPS TECH.
▪️GENERAL ELECTRONICS TECH.
▪️SAFETY TECHNICIAN (NEBOSH & SAFETY DIPLOMA)
▪️ELECTRONICS TECHNICIAN (FIRE ALARM/CCTV/ACCESS CONTROL)
▪️ELECTRONICS/ELECTRICAL/MECHANICALTECH. (Textile Machines)
▪️LABORATORY/ STERILIZATION TECHNICIAN (ZAMZAM WATERING)
▪️ELECTRIC CONTROL PANEL TECHNICIAN
▪️ELECTRONIC UPS TECHNICIAN
▪️RELAYS ELECTRICAL TECHNICIAN
▪️TELEPHONE TECHNICIAN
▪️ELECTRICAL CIRCUIT BREAKER TECH.
▪️BMS TECHNICIAN
▪️GENERATOR TECHN. (ELECTRICAL)
▪️DIESEL MECHANIC TECH.
▪️MANLIFT MACHINE MECHANIC
▪️LAUNDRY EQUIPMENT TECHNICIAN

▪️WATER COOLER TECH.
▪️DIESEL GENERATOR OPERATOR
▪️MECHANICALTECHNICIAN (PUMP, COMPRESSOR
▪️DIESEL ENGINE, (HYDRAULIC & MOTOR)
PUMP TECHNICIAN
▪️AUDIO DEVICE PLAYER
▪️ELECTRICAL UPS TECH.
▪️BLEACH TECHNICIAN
▪️AUDIO VISUALTECHNICIAN
▪️CENTRAL C0OLER TECH.
ALL ABOVE MUST HAVE 05 YEARS IN MAINTENANCE PROJECTS
CLIENT INTERVIEW ON TUESDAY 6 SEPTEMBER 2022
Interview Venue: Fr. Agnel Industrial Training Centre, Band Stand, Bandra (W), Mumbai 50
Contact: 91373 14988 Email: haramainrktscvi@gmail.com
RK TRAVEL SERVICES RECRUITMENT
Kanakia Zillion, H-Wing 3rd Floor, Office No. 334, LBS Marg, CST Road Junction, BKC Annexe, Kurla (West), Mumbai – 70.