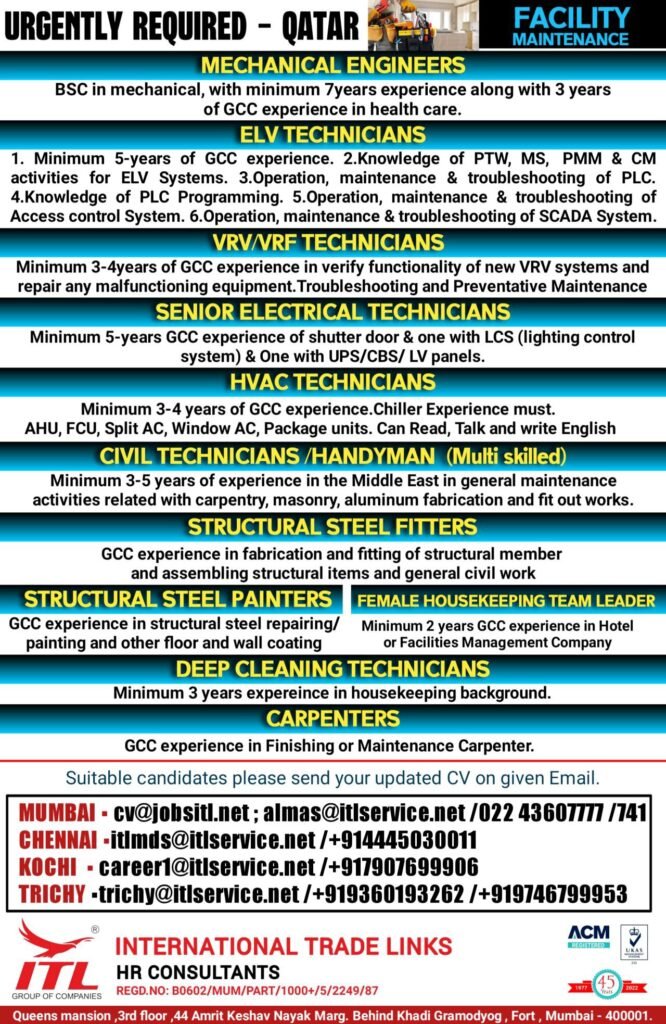 URGENTLY REQUIRED FOR QATAR
✓MECHANICAL ENGINEERS
BSC in mechanical, with minimum 7years experience along with 3 years of GCC experience in health care

✓ELV TECHNICIANS
Minimum 5-years of GCC experience. Knowledge of PTW, MS, PMM & CM activities for ELV Systems. 3.0peration, maintenance & troubleshooting of PLC.Knowledge of PLC Programming. 5.0peration, maintenance & troubleshooting of Access control System. 6.0peration, maintenance & troubleshooting of SCADA System.

✓VRV/VRF TECHNICIANS
Minimum 3-4years of GCC experience in verify functionality of new VRV systems and repair any malfunctioning equipment. Troubleshooting and Preventative Maintenance

✓SENIOR ELECTRICAL TECHNICIANS
Minimum 5-years GCC experience of shutter door & one with LCS (lighting control system) & One with UPs/CBS/ LV panels.

✓HVAC TECHNICIANS
Minimum 3-4 years of GCC experience. Chiller Experience must. AHU, FCU, Split AC, Window AC, Package units.
Able To Read, Talk and write English

✓CIVIL TECHNICIANS/HANDYMAN (Multi skilled) Minimum 3-5 years of experience in the Middle East in general maintenance activities related with carpentry, masonry, aluminum fabrication and fit out works.

✓STRUCTURAL STEEL FITTERS
GCC experience in fabrication and fitting of structural member and assembling structural items and general civil work

✓STRUCTURAL STEEL PAINTERS
GCC experience in structural steel repairing/painting and other floor and wall coating
✓FEMALE HOUSEKEEPING TEAM LEADER
Minimum 2 years GCC experience in Hotel or Facilities Management Company

✓DEEP CLEANING TECHNICIANS
Minimum 3 years experience in housekeeping background.

✓CARPENTERS
GCC experience in Finishing or Maintenance Carpenter.
Interested candidates please send your updated CV on given Email ID:
MUMBAI
cv@jobsitl.net
almas@itlservice.net
022 436077
CHENNAI
tmds@itiservice.net +914445030011
KOCHI
careerl@ilservice.net
+917907699906
TRICHY
trichy@ittservice.net
+919360193262 /+919746799953
Urgently required for a leading Contractor Company involved in Operation & Maintenance Project for Oil & Gas / Refinery / Petrochemical Plants
VARIOUS JOB POSITIONS OPENING
✓Rigger Level 3
✓Safety Officer
✓Tig Welder
✓Lubricator
✓Instrument Technician
✓Electrical Technician
✓Millwright Technician
✓Pipe Fitter/ Mechanical Fitter
✓Scheduler
✓Fabricator
✓CS Welder
✓SS Welder
✓Fire Watch
✓Rigger Level 1
✓Coordinator
✓Forklift Operator
✓Permit Receiver
✓Hole Watch
✓Electrically Instrument (E&I)
Qualified in Respective Discipline with minimum 5-10 years experience in Relevant Field. Has a Very Good Command in English Language (Speak, Read & Write).
EXCELLENT SALARY +PERKS
Interested Candidates Kindly Submit Your Bio Data & Documents Online
CLICK HERE TO APPLY ONLINE
URGENT REQUIRED FOR A LEADING INDUSTRIAL SERVICES IN KSA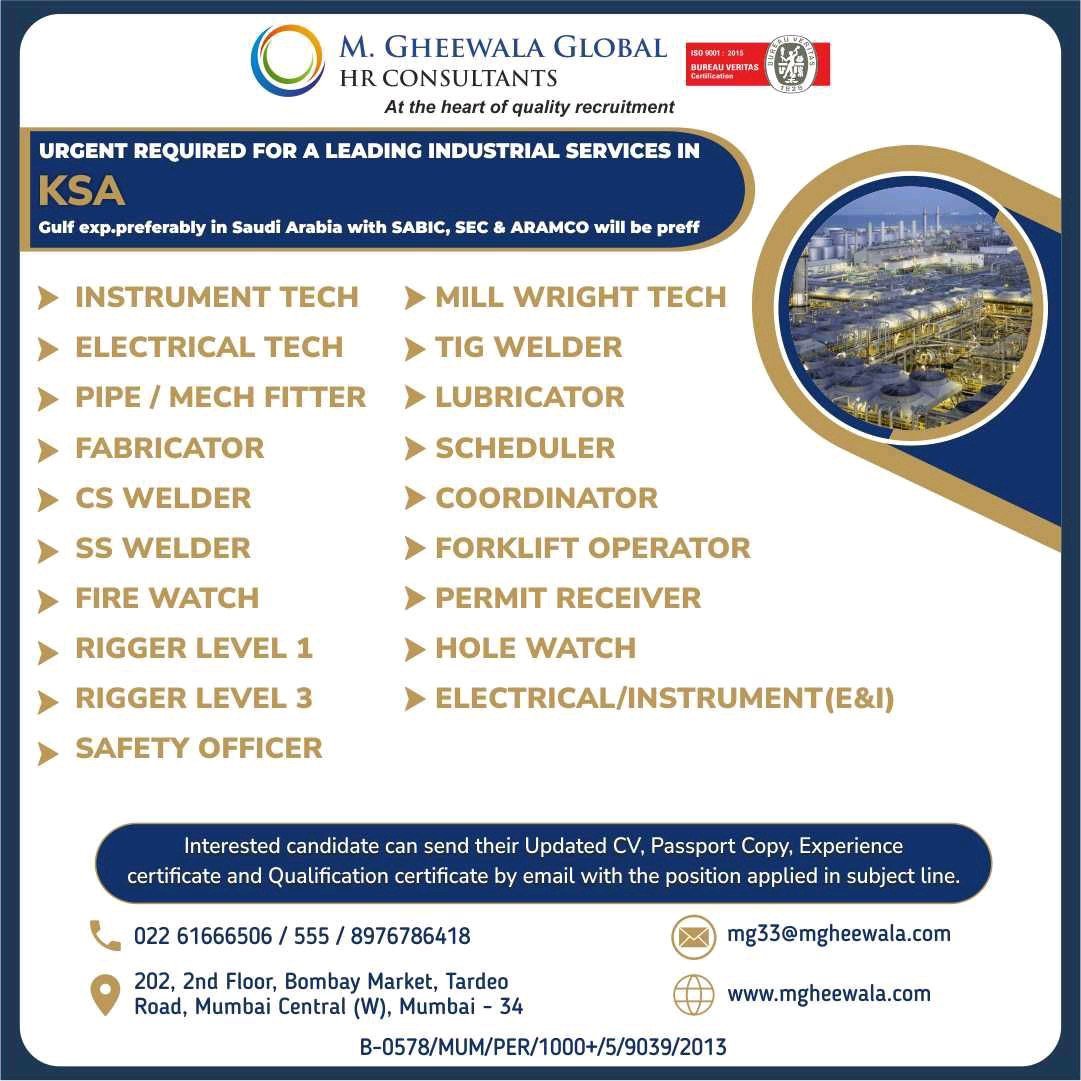 Interested Candidates can send their Updated CV, Passport Copy, Experience Certificate and Qualification certificate by email with the position applied in subject line.

Mg33@mgheewala.com
022 61666506/ 555/ 8976786418
Address: 202, 2nd Floor, Bombay Market, Tardeo Road, Mumbai Central (W), Mumbai – 34

FOR MORE JOBS
HIRING FOR GULF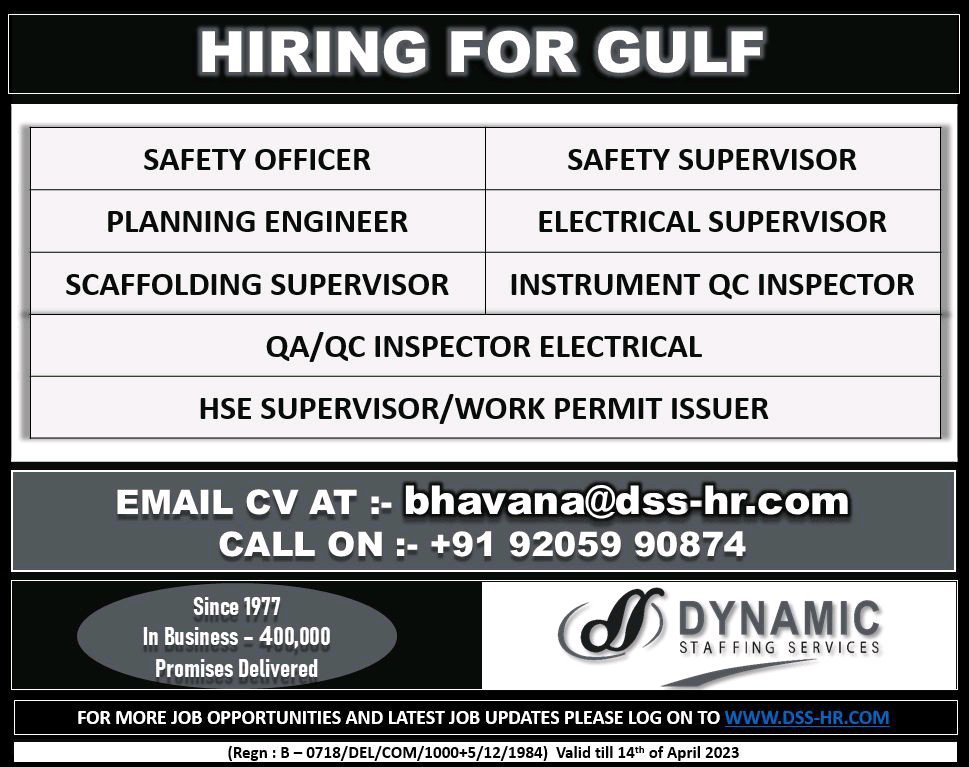 LIST OF JOB OPENINGS
✓SAFETY OFFICER
✓SAFETY SUPERVISOR
✓PLANNING ENGINEER
✓ELECTRICAL SUPERVISOR
✓SCAFFOLDING SUPERVISOR
✓INSTRUMENT QC INSPECTOR
✓QA/QC INSPECTOR ELECTRICAL
✓HSE SUPERVISOR/WORK PERMIT ISSUER
Interested Candidates Can send updated Cv On
EMAIL CV AT : bhavana@dss-hr.com
CALL ON +91 92059 90874
URGENTLY REQUIRED FOR SAUDI ARABIA (OIL/GAS & REFINERY MAINTENANCE PROJECT)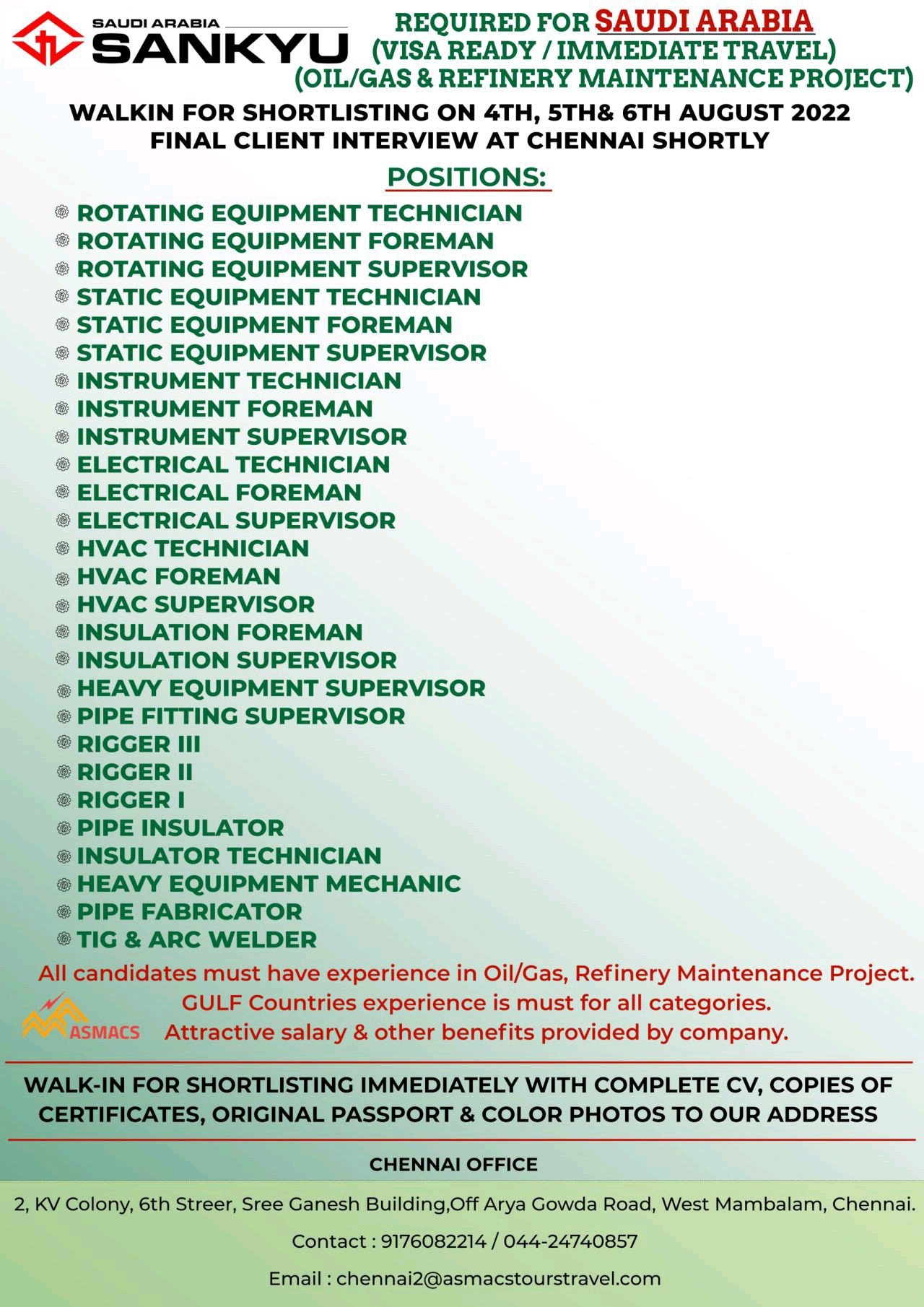 JOB OPENING POSITIONS
✓ROTATING EQUIPMENT TECHNICIAN
✓ROTATING EQUIPMENT FOREMAN
✓ROTATING EQUIPMENT SUPERVISOR
✓STATIC EQUIPMENT TECHNICIAN
✓STATIC EQUIPMENT FOREMAN
✓STATIC EQUIPMENT SUPERVISOR
✓INSTRUMENT TECHNICIAN
✓INSTRUMENT FOREMAN
✓INSTRUMENT SUPERVISOR
✓ELECTRICAL TECHNICIAN
✓ELECTRICAL FOREMAN
✓ELECTRICAL SUPERVISOR
✓HVAC TECHNICIAN
✓HVAC FOREMAN
✓HVAC SUPERVISOR
✓INSULATION FOREMAN
✓INSULATION SUPERVISOR
✓HEAVY EQUIPMENT SUPERVISOR
✓PIPE FITTING SUPERVISOR
✓RIGGER III
✓RIGGER II
✓RIGGER I
✓PIPE INSULATOR
✓INSULATOR TECHNICIAN
✓HEAVY EQUIPMENT MECHANIC
✓PIPE FABRICATOR
✓TIG & ARC WELDER

All candidates must have experience in Oil/Gas, Refinery Maintenance Project.
GULF Countries experience is must for all categories.

Attractive salary & other benefits provided by company.

WALK-IN FOR SHORTLISTING IMMEDIATELY WITH COMPLETE CV, COPIES OF CERTIFICATES, ORIGINAL PASSPORT & COLOR PHOTOS TO OUR ADDRESS
MUMBAI OFFICE
411, 4th Floor, Sai Chamber,Opp.Railway Station, Santa Cruz East, Mumbai – 400055

Contact Number: +91 9930033047
(WA Only)

Email: rec3@asmacs.net

CHENNAI OFFICE

2, KV Colony, 6th Streer, Sree Ganesh Building,Off Arya Gowda Road, West Mambalam, Chennai.

Contact: 9176082214/044-24740857

Email:chennai2@asmacstourstravel.com