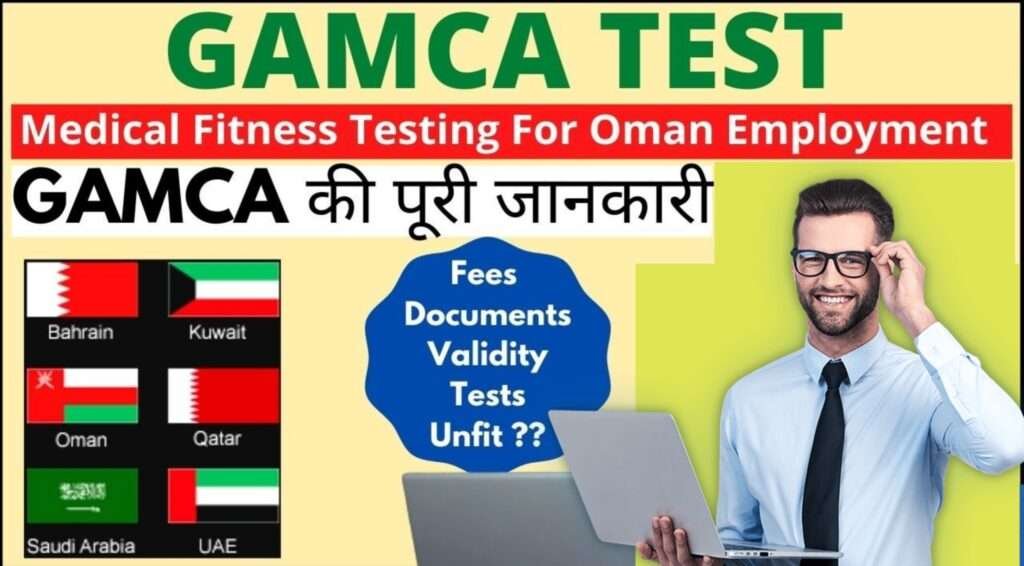 GAMCA Medical is required for all persons wishing to work in Gulf Cooperation Council countries. These countries are Bahrain, Kuwait, Oman, Qatar, Saudi Arabia and United Arab Emirates. Medical visa applications are processed by the Gulf Approved Medical Centers Association (GAMCA). This Association was established to conduct her medical screenings for all immigrants seeking work in her Middle Eastern countries that are part of the GCC.
What's GAMCA Medical?
GAMCA Medical for Visa is a mandatory medical examination required in these countries for all expatriates wishing to work in the countries of the Gulf Cooperation Council (GCC). The GAMCA Health Assessment is a comprehensive Health Assessment that covers all aspects of your Her Health, from general Health to specific Her Conditions and Diseases. GAMCA medical screening is important as it helps ensure that all expatriates working in GCC countries are in good health and free of underlying health problems that could impact public health in the area . This also helps prove that person can work.
What to Examine During GAMCA Medical?
The starting point is to book online through the GAMCA Medical website. A medical evaluation includes a physical examination, laboratory tests, and a review of the medical history. You may be asked to undergo additional tests depending on your individual health needs. As part of GAMCA Medical for Visa, you will be asked to provide a urine sample and chest x-ray. You will also be asked to fill out a health questionnaire. A physical examination includes assessment of general health, weight and height, and blood pressure. Your doctor may also examine your eyes, ears, nose, and throat and may perform a dental examination.
FEES FOR GAMCA MEDICAL
The GAMCA Medical Visa fee varies depending on the country where you take the exam. Here are the current rates for each country:

GAMCA Pakistan Medical Cost PKR 9300
India GAMCA Medical Cost in Oman Qatar Bahrain Kuwait UAE he is INR 4500. For Saudi Arabia, the medical fee is INR 5000.
GAMCA medical expenses in Bangladesh is 5,300 TK
The test usually takes 2-4 hours and you will receive your test results within 3 days. If you pass GAMCA Medical for Visa, you will be issued a medical certificate valid for 6 months.
If you fail the GAMCA health exam, you must take corrective action and retake the exam. You may also be prohibited from working in the GCC countries if you fail your GAMCA visa.
What Documents Required for GAMCA Medical?
There are some specific documents required by GAMCA Medical. These are:

A valid passport valid for at least 6 months from the date of travel.
Two passport photos.
The original visa application form.
Original health insurance card.
A copy of your airline ticket or itinerary.
If you are staying at a hotel, a copy of your hotel reservation.
Fee Payment Receipt.
How to book ONLINE GAMCA medical test?
To book GAMCA Medical for your visa use the official booking link. You can book medical care from any country in the world using the booking link above. You can use this link to book GAMCA Medical in Pakistan, India,
Bangladesh, Philippines, Sri Lanka etc. To book medical care through this website, payment must be made by credit card. If you have no balance and would like to book GAMCA Medical, you can use one of the following options:
You can easily check in which cities these medical centers are available by booking your health checkup through the official website above.
7 steps to book the GAMCA medical test ONLINE?
Link to the official booking website (https://v2.gcchmc.org/)
Click Book The Appointment
Fill out the online form with your personal information
Click Submit at the bottom of the form
Submit Enter your credit card payment details
Click Pay
Check your email for confirmation
How to check results ONLINE of GAMCA Medical Exam?
GAMCA diagnosis results can be checked in two ways: online and at the GAMCA office. To view your GAMCA medical results online, click here.

To check your results online, you must enter your name and passport number on the GAMCA website. Results are displayed on the screen.
If you check your results through the GAMCA office, you will need to provide your name, passport number and test date to GAMCA staff. I will print out the results and give them to you.
Where are GAMCA medical tests centers located in the world?
In Philippines GAMCA medical centers are Located in the following cities
Bacolod
Cebu
Davao
Iloilo
Makati
Mandaluyong
Mandaue
Manila
Mindanao
Quezon
Zamboanga
In Pakistan, GAMCA Medical Centers are located in the following cities:
Gujranwala
Islamabad
Karachi
Lahore
Multan
Peshawar
Quetta
Rawalpindi
Sialkot
In Bangladesh GAMCA medical centers are Located in the following cities