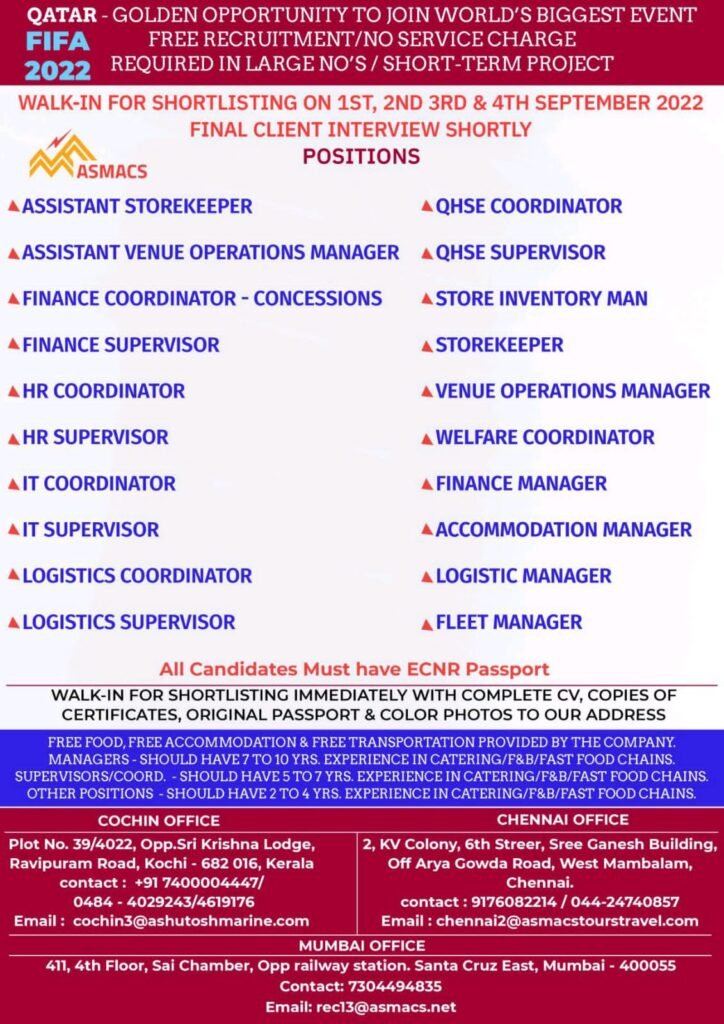 JOBS CATAGORY OPENING LIST FOR FIFA 2022 PROJECT QATAR
▪️ASSISTANT STOREKEEPER

▪️QHSE COORDINATOR

▪️ASSISTANT VENUE OPERATIONS

▪️MANAGER QHSE SUPERVISOR

▪️FINANCE COORDINATOR

▪️CONCESSIONS STORE INVENTORY MAN

▪️FINANCE SUPERVISOR

▪️STOREKEEPER

▪️HR COORDINATOR

▪️VENUE OPERATIONS MANAGER

▪️HR SUPERVISOR

▪️WELFARE COORDINATOR

▪️IT COORDINATOR

▪️FINANCE MANAGER
▪️IT SUPERVISOR

▪️ACCOMMODATION MANAGER

▪️LOGISTICS COORDINATOR

▪️LOGISTIC MANAGER

▪️LOGISTICS SUPERVISOR

▪️FLEET MANAGER
FREE FOOD, FREE ACCOMMODATTON & FREETRANSFORTATON PROVIDED BY THE COMPANY.
SUPERVISORS/COORD.-SHOULD HAVE5 TO 7 YRS. EXPERIENCE IN CATERING/F&B/EAST FOOD CHAINS
OTHER POSITIONS -SHOULD HAVE 2 TO 4 YRS. EXPERIENCE IN CATERING/F&B/FAST FOOD CHAINS.
All Candidates Must have ECNR Passport
WALK-IN FOR SHORTLISTING
APPLY IMMEDIATELY WITH COMPLETE CV, COPIES OF CERTIFICATES, ORIGINAL PASSPORT & COLOR PHOTOS To OUR ADDRESS
COCHIN OFFICE: Plot No. 39/4022, Opp.Sri Krishna Lodge, Ravipuram Road, Kochi – 682016, Kerala EMAIL :cochins@ashutoshmarine.com
CHENNAI OFFICE: 2, KV Colony, 6th Streer, Sree Ganesh Building,Oft Arya Gowda Road, West Mambalam, Chennai. Email :chennai2 @asmacstourstravel.com
MUMBAI OFFICE 411, 4th Floor, Sai Chamber, Opp railway station. Santa Cruz East, Mumbai – 400055
Contact: 7304494835
FREE REQUIREMENT FOR FIVE STAR HOTEL MALE & FEMALE QATAR
▪️WAITRESS

▪️RECEIVING CLERK

▪️WELFARE SUPERVISOR

▪️SUPERVISOR LIFEGUARD

▪️LANDSCAPING SUPERVISOR

▪️STEWARD

▪️CONCIERGE

▪️ACCOMMODATION ATTENDANT

▪️COMMIS I

▪️TAILOR

▪️CCTV OPERATOR

▪️POOL TECHNICIAN

▪️GARDENERS

▪️BUGGY DRIVER

▪️CHEF DE PARTIE

▪️STEWARDING SUPERVISOR

LIFEGUARD SHALLOW: No Certification, Good Swimmer, video required All Selected Candidates will get on the spot offer. Interested candidates visit our office for walk in interview along with cv original documents & passport. EXCELLENT SALARY+PERKS
All above candidates should have qualified in respective discipline with min 5+ yrs of International experience/ Five Star Hotel experience. Well-versed in English Communication. Candidates age Between 22-40 yrs old.
MUMBAI OFFICE: 206, BEZZOLA COMMERCIAL COMPLEX, OPP SUMAN NAGAR, SION TROMBAY ROAD, CHEMBUR, MUMBAI- 71

DELHI OFFICE: BUILDING NO.9, MAIN ROAD SANT NAGAR,2ND FLOOR EAST OF KAILASH, ABOVE MILESTONE, DELHI-65.
KOCHI OFFICE: JOMER ARCADE, 3RD FLOOR, CHITTOOR ROAD, OPP. GOVT. GIRLS' HIGH SCHOOL, NEAR SOUTHMETRO STATION, ERNAKULAM, KERALA

CHENNAI OFFICE: 28 AARTI ARCADE, 86, DR
RADHAKRISHNAN ROAD, MYALAPORE, CHENNAI – 600 004.