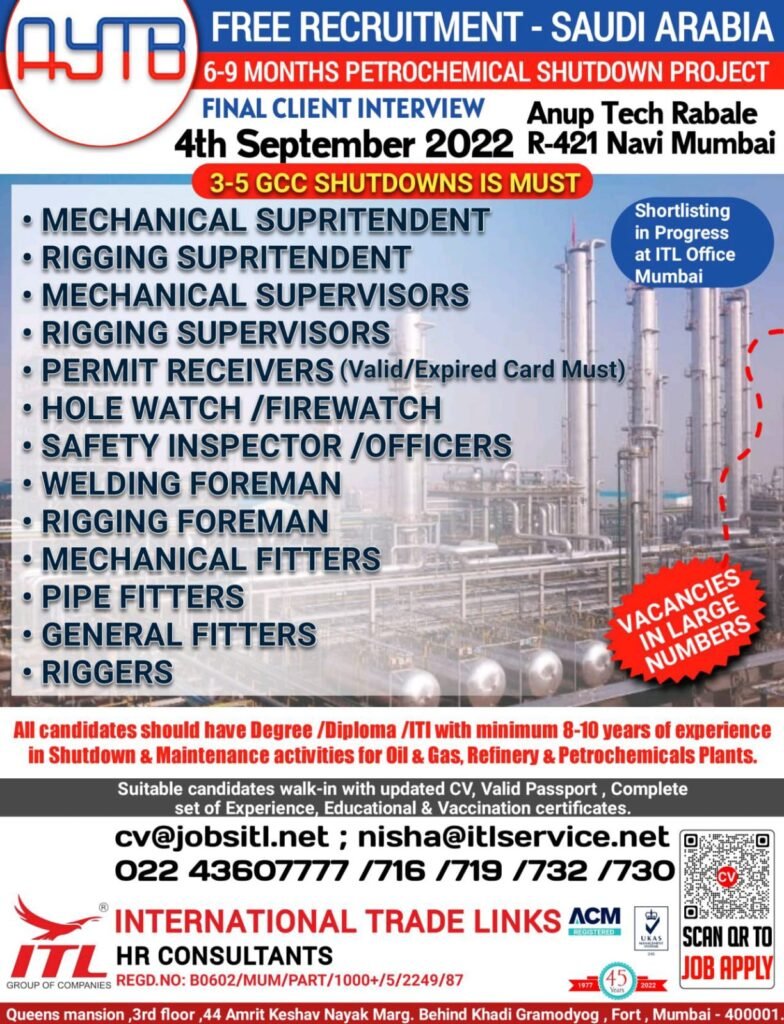 JOB OPENING FOR SAUDI ARABIA 6-9 MONTHS PETROCHEMICAL SHUTDOWN PROJECT
Shortlisting in Progress at ITL Office Mumbai
VACANCIES IN LARGE NUMBERS
🔸MECHANICAL SUPRITENDENT
🔸RIGGING SUPRITENDENT
🔸MECHANICAL SUPERVISORS
🔸RIGGING SUPERVISORS
🔸PERMIT RECEIVERS (Valid/Expired Card Must)
🔸HOLE WATCH /FIREWATCH
🔸SAFETY INSPECTOR /OFFICERS
🔸WELDING FOREMAN
🔸RIGGING FOREMAN
🔸MECHANICAL FITTERS
🔸PIPE FITTERS
🔸GENERAL FITTERS
🔸RIGGERS
FINAL CLIENT INTERVIEW Anup Tech Rabale 4th September 2022 R421 Navi Mumbai 3-5 GCC SHUTDOWNS IS MUST
All candidates should have Degree /Diploma /Tl with minimum 8-10 years of experience in Shutdown & Maintenance activities for Oil & Gas, Refinery & Petrochemicals Plants.
Suitable candidates walk-in with updated CV, Valid Passport, Complete set of Experience, Educational & Vaccination certificates.
cv@jobsitl.net ; nisha@itlservice.net
Queens mansion ,3rd floor,44 Amrit Keshav Nayak Marg. Behind Khadi Gramodyog, Fort, Mumbai 400001.